Posted April 14, 2015
By MELISSA SOTO
"One Big Happy" brings a new perspective on a modern American family.
At 8:30 p.m. on Tuesday nights, a different type of family is shown on television.
Lizzy (Elisha Cuthbert), an uptight lesbian, lives with her best friend Luke (Nick Zano), a relaxed but immature guy. During the pilot episode, Lizzy and Luke are trying to have a baby. Since Lizzy is a lesbian, they haven't been trying to get pregnant the old fashioned way but rather through in vitro fertilization. Both Lizzy and Luke agreed that if by the time they were 30 and did not have children, they would create a life together.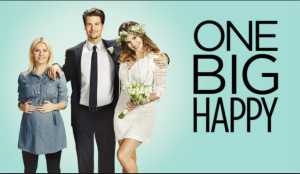 As the episode progresses, Luke meets and falls in love with a voluptuous Brit named Prudence (Kelly Brook). Lizzy is not fond of Prudence but adjusts to the idea of her once she sees how happy Luke is. Luke and Prudence get married and all three of them get used to cohabitating.
"Out of the Closet," episode two, begins with Luke and Prudence convincing Lizzy to get rid of the memorabilia from her prior relationship. Somehow the newlyweds spark a light in Lizzy that leads her to meeting up with her ex Erica. Lizzy and Erica rekindle their love for one another and Lizzy decides to invite Erica over the following night for dinner. Erica never shows up and Lizzy is heartbroken yet again but goes through with the destroying of her ex's items.
Episode 3, "Crushing It," consists of Luke making his way around the city to find the best obstetrics and gynecology physician (OBGYN) for Lizzy and the baby. The rest of the episode Lizzy is trying to figure out if her new love interest, Kate, is a lesbian. Lizzy invites Kate to a group outing at the bowling alley where they learn that Kate is indeed a lesbian. The episode concludes with Lizzy going to see the OBGYN that Luke finds. While waiting for the doctor the nurse comes to take the vital signs. The nurse just happens to be Kate. Kate makes it crystal clear that she can no longer see Lizzy as she is now a patient.
This show is aired on NBC and was produced by Liz Feldman and Ellen DeGeneres. Feldman was an Emmy Award winner for her writing of "The Ellen DeGeneres Show." At the moment NBC has only ordered six episodes.
Elisha Cuthbert, who plays Lizzy, is also known for her roles in "House of Wax" and "The Girl Next Door." Nick Zano, who plays Luke, is known for his reoccurring role in the television show "Cougar Town." Prudence is played by actress Kelly Brook who is most known for a role in "Piranha 3D."
Families of today's generation are not all traditional. Shows like "Modern Family" and "Two and a Half Men" both demonstrate how diverse family dynamics now are. This show may be trying to become the next best example of new families in our society, but they are going to need a lot more help to accomplish that.
Overall, this show is not a subtle comedy. The lines feel quite forced and the acting is not noteworthy. It's uncertain how the audience will react to these first few episodes but, so far, it is disappointingly unsatisfying.
Title: "One Big Happy"
Network: NBC
Release Date: March 17, 2015
Length: Six episodes, 30 minutes each
Genre: Comedy
Air Time: Tuesdays at 8:30 p.m.
Rating: 2.5 out of 5