By VALERIA PALLADINO
The general recommendation is to strive for five minutes before class time. Ten to 15 if you're being extra dedicated. But being an hour early? That is unheard of.
The first time she experienced this phenomenon was at Miami Beach's Regional Library, Melanie Nuñez said, and she explained that she was sitting, waiting for the classroom doors to open at 9 a.m. sharp, because she was just that excited.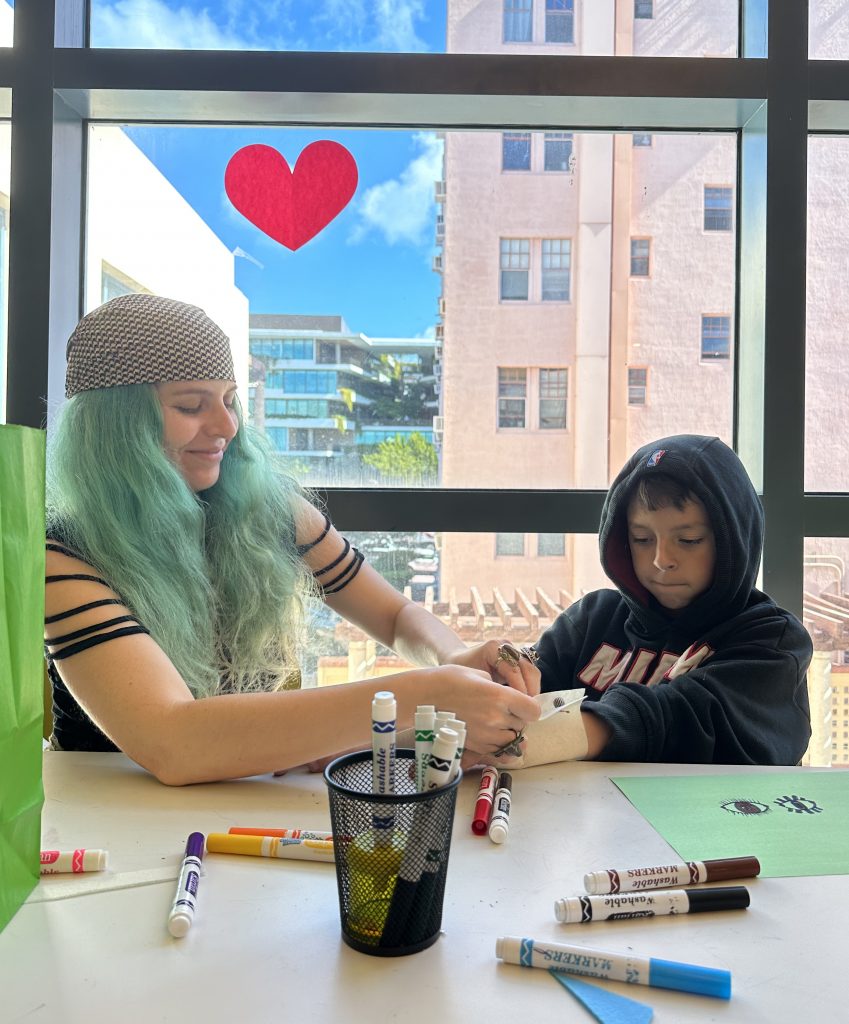 And it was not even her first day, nor the first time she has enrolled in the program.
It was no less than her third time participating in a Miami New Drama's MIND Theater Intensive Program… and she is already ready for the fourth, this upcoming summer.
The program consists of two classes: "Costume Design" and "Introduction to Performing Arts."
Children ages 9 to 14 are welcome to sign up for the one-week program.
"Costume Design" is the first class of the day, starting at 10 a.m.
This is the time for students to embrace their imagination and get creative, crazy even, to make their own costumes. And by make, it means sew, design, and fully create a costume which he or she will wear.
"People get impressed because it's like kids using this machine, you know, the little fingers," Vyana Preti, director of Education said.
Most kids do not know how to sew, but Preti was surprised at how good some of the students have become, and it seems like she was not the only one.
Not only are students getting better at hands-on costume designing, but they have strong visions of what they want in their characters and clothes. They are not afraid to reject suggestions.
Pangea Coal Virga, the costume design instructor, has worked with this group three times now.
"Each one has their own aesthetic," she explained, adding that each student has a different voice, and she continues to be impressed by how much it deepens and expands in the workshops.
"They are gaining clarity in their designs. "Even if you propose an idea they have their own vision," explained Preti. "For example, I asked Samuel, should we paste a piece of fabric and he told me no, it has to be two distinct kinds of fabric. And I think that's great. They come to the page to create their own design and then they get to wear it."
After putting their effort into designing a one-of-a-kind costume, it is time to give it a purpose. They must now invent a character to own it. This sets the base for their final class where they learn how to take on and personalize the character they created.
This is where it gets real. Stage time. Kids show off their confidence and build on it by performing and learning basic acting skills.
Breaking out of their comfort zone in this way has been healthy for the class.
Students have found friendships with other kids interested in similar career paths.
"We would design costumes and we would make new friends like me and my friend," Nuñez said. "Our characters are sisters and it's really fun cause we get to act like we're sisters."
Nuñez was able to automatically find someone she connected with, Denisse Rodriguez, who became her new friend.
When it was time to decide on characters Nuñez said there was no doubt in either of them.
"We were like — we're being sisters, automatically," she said.
Both girls said they are interested in acting as a future career. Nuñez is considering not only acting but singing as well. One of her favorite activities was to sing for the rest of her classmates.
Melanie's mother, Jelena, said that she has seen Melanie improve as she continues to engage in the program.
"Melanie doesn't talk about her classes as much during the program because she doesn't want to ruin the surprise/play at the end. But when I see the play, I can tell that she is improving a lot", she said.
"We did an audition and got to choose our character for the dance competition that we're doing and then we, you know, like lip sync to a song or sing a song. I sang a song, and it was fun," Nuñez said.
She's curious about writing scripts and wants to learn more about acting.
Both classes incorporate games to motivate students to elevate their self-confidence. This way students interact with each other while incorporating public speaking and acting skills at the same time.
A popular class favorite was Zip Zap Zop, a kid's game. It consists of making hand signals and passing it on. Both Nuñez and Rodriguez agreed it was one of the best activities so far.
Rodriguez also mentioned a game where everyone had to act innocent.
"Yesterday, we did a thing where you were in a courtroom, and you had to say who you think was guilty of stealing the golden microphone," she explained. "We all have to act innocent cause we don't know who it is."
Noah Devoto, another student, said his favorite class was Performing Arts and that he was interested in becoming an actor and appearing in movies.
Most of the students are interested in pursuing a job in this world of theater. This program allows them to experiment with it and open their eyes to different possibilities.
Virga said that her goal is to let kids know that "everything is possible." She described her classes as experimental and focuses on creative expression and sustainability.
The question of if kids use the time to their advantage and learn depends on a range of factors. Virga believes it is a matter of age and influenced by parenthood.
"It really depends on age and the parents, right? If the parents want to go out of their way to take their kids to a program or, you know, facilitate their children's interests also makes a significant difference," Virga said.
Jelena, for example, plans to support her daughter and keep showing her what the theater world is all about.
"Melanie is very into singing/acting and she will be going to Miami Arts Charter School this year in theater program, so I do see her doing this at least for the next few years," she stated.