Posted March 4, 2021
By SUMMER XIA
QINGDAO, China — "Each time you take the porcelain out of the kiln, you would either get surprised or shocked," Ke Yang, a porcelain painting artist, said. "But that is also the reason I love porcelain painting."
Porcelain painting is the ornament on the glazed porcelain objects such as vases, cups, plates, and bowls, requiring a meticulous craft and convoluted producing process. However, you would not associate him with such an elaborate artwork when you first met Yang.
Yang is a dark-skinned, tall and strong man, who, at age 53, contrasts with typical images of traditional Chinese artists who wear glasses and are often skinny. Most likely, you would think he was an athlete rather than an artist.
Indeed, Yang was a college athlete. Moreover, he actually is not a "professional" artist who holds art as a job – he is the judge at the People's Court of Shibei District, Qingdao.
Therefore, just like porcelain painting is art with uncertainty and variation, Yang's life is filled with diversity.
In Spring 2012, Yang went to Jingdezhen, the porcelain-manufacturing center in China, with his friends, and he fell in love with the porcelain painting at first sight.
Since then, he started to learn porcelain painting techniques from people at Jingdezhen. He established his own studio in Qingdao in 2013.
There are three main categories of porcelain painting: over-glazed, under-glazed and between-glazed. The difference between those three types is the place your image on the porcelain. In other words, the image will be on the top of the glaze in over-glazed porcelain; the painting will be under the glaze in under-glazed porcelain; the artist will draw the image between two glazes in the between-glazed porcelain.
Over-glazed porcelain is the most accessible type to start with, so Yang started his porcelain painting career with over-glazed porcelain. Nonetheless, Yang was not satisfied to limit his works on the over-glazed porcelain. So, he quickly started to learn about under-glazed porcelain and between-glazed porcelain.
He found out that few people were doing the between-glazed porcelain and even those between-glazed artworks in Jingdezhen are pretty close to the under-glazed porcelain instead of the actual between-glazed. Therefore, Yang began to wonder how to make authentic between-glazed porcelain.
Yang did a substantial amount of research on between-glazed porcelain techniques and launched experiments on between-glazed porcelain at the end of 2018. There were two giant electric ceramic kilns, where his experiment took place, at Yang's studio.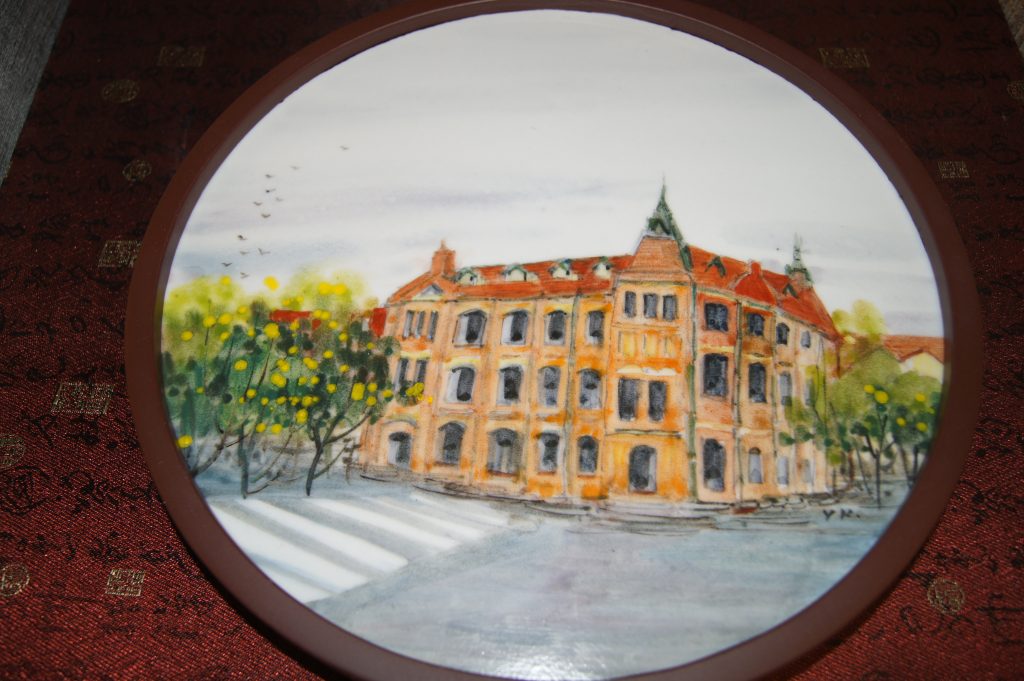 "When I am firing the porcelain at the kiln, it's actually burning the 'money,'" Yang said. "One set of kiln lasts about 10 hours and the cost of the electricity per hour for one kiln is about ¥14 (about $2)."
An essential factor in the between-glazed porcelain manufacturing process is the temperature. If the temperature is too high, the porcelain will break; and if the temperature is too low, the glaze will not form. So, Yang sometimes has to fire only one small porcelain object, such as a cup, at a giant kiln to reduce the risk of wasting the porcelain.
After about two years' research and experiments, Yang finished his first complete between-glazed porcelain in May 2020.
"My success on between-glazed is because of the pandemic. I had much more time to delve into my experiment during the lockdown," said Yang.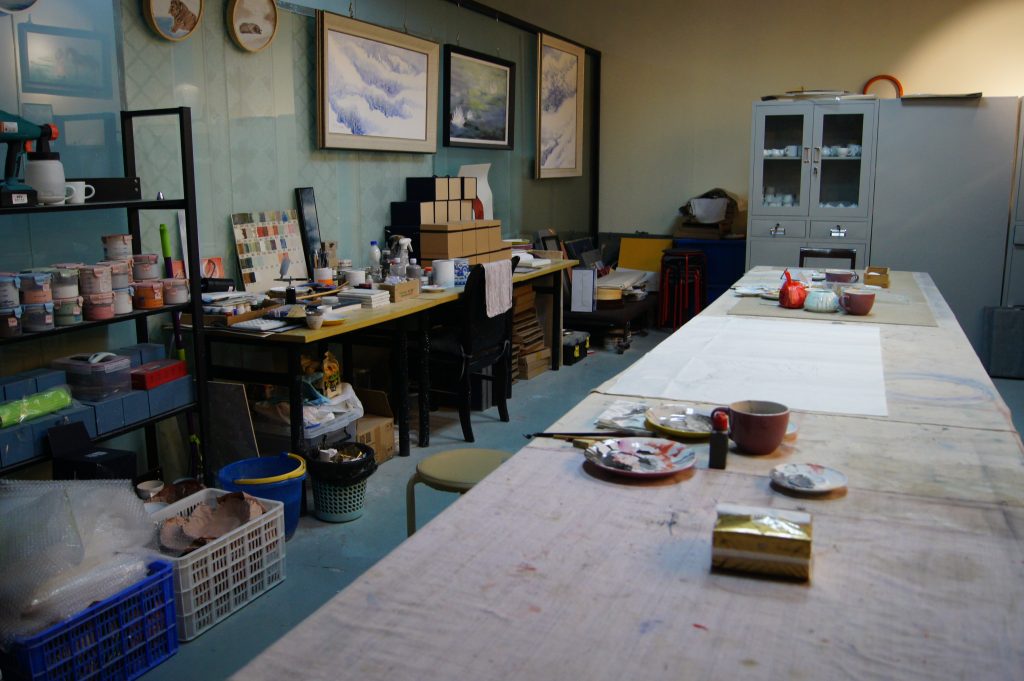 During the pandemic, Yang created hundreds of new porcelain paintings.
Yang's between-glazed porcelain's uniqueness is his technique that he paints the image on a glaze and then fires another complete glaze over it. Additionally, this technique also helps the porcelain to show the original color of the pigment better. For example, red is the easiest color to be lost during the firing, but Yang's between-glazed porcelain technique will perfectly and clearly present the color of red.
"I think the main difference between porcelain painting with other painting styles is the that how you utilize the surface of glaze and firing temperature to assist your artworks. If you only consider the painting technique, your images will not cooperate with the porcelain very well, and you will never learn the characteristic of the porcelain painting," Yang said.
Jingdezhen could be called a "second home" for Yang, as he visited there during vacations every year and had his own studio there.
He loves to work in Jingdezhen, as the working conditions there are convenient, and the environment is fairly free and pleasant.
"They have everything for you at Jingdezhen, and the only thing you need to bring is yourself. If you need something, like the clay body or a specific pigment, you just need to make a phone call, and they will send it directly to your studio," Yang said. "But you might not find the thing you wanted after visiting several stores or making tons of phone calls in Qingdao."
So, for Yang, Jingdezhen is a place to find inspiration and create passionate artworks. However, such convenient working conditions sometimes will induce laziness.
Yang said all the artists in Jingdezhen would not care about firing the porcelain techniques but only the painting styles because there will be plenty of people waiting to do it for them. Thus, no one there would waste their time experimenting with the between-glazed technique, as Yang did.
"Creating art does need passion, but sometimes you also need to delve into it in a quiet and calm environment. So, most of my research on techniques could only happen in Qingdao," said Yang.
Yang is quite a talented artist. Although he started porcelain painting in 2012, his artworks have already won the gold medal at the China Innovative Design Culture Exhibition and China (Qingdao) Arts and Crafts Fairs in 2013 and 2014.
Furthermore, he was invited to the British Henry Art Festival in 2015 and he was only the second Chinese artist invited in history. Yang also went to the Asian Art Festival held by American Artists Association in Las Vegas in October 2016 and the Japan-China Art Exchange Exhibition in April 2017. Yang appreciates those opportunities to communicate with artists from different countries, which helps him extend his artistic views.
"The most interesting thing I noticed when I went to Britain was that they were so religious that they did not accept one of the themes of my painting, Menshen, or the Door God, because they only admitted Jesus as the only God. Also, they even believe dragons are monsters. So, I realized that I have to change the topic of my painting to make the porcelain painting globally known and accepted," Yang said.
There are four series in Yang's porcelain painting: snow world, Menshen, Qingdao scenery, and everyday objects. The series of Qingdao scenery apparently implies Yang's affection for his hometown. Nonetheless, he had lived in Zibo, another city in Shandong province is near Qingdao, for a long time.
Although Yang's parents are born and raised in Qingdao, they had to move to Zibo because of their jobs. So, Yang was born in Zibo in 1967. However, since both of his parents were busy with work, he went to Qingdao to live with his grandmother for about four years. So, Yang developed an intimate relationship with his grandma, and she also plays an important role in shaping his personality.
"Even though my grandma is an uneducated woman, she is modest, polite, and selfless. She always told me that we should leave the valuable things to others," said Yang.
Besides Yang's grandmother, Yang's older sister also plays a great part in his life. He said while his sister is only two years older than him, she always takes good care of him, making him constantly feel loved and cared for during childhood. So, Yang became an outgoing and sociable person in the future.
At about five years old, he went back to Zibo for school and lived with his parents. His father is a Chinese painting teacher, so Chinese painting was the first painting style Yang learned.
However, when Yang talked about people who impacted his artistic path mostly and deeply, he said it was actually his father's students.
His father's students were high schoolers while Yang was in primary school, but they liked to bring Yang with them when they went outside to paint the natural landscapes or buildings. Observing and staying with those students for such a long time, little Yang was touched by their passion and persistence toward the art. And he decided to continue to learn painting and become an artist in the future.
Yang's dream school was the Shandong University of Art, but he did not get into it in 1985 when he graduated from high school.
Instead, he went to a non-famous private college called Luzhong Vocational University to study art and craft, and he started to study oil painting at that school.
Nonetheless, Yang was not satisfied with his current situation at that time, so after studying at Luzhong for a year, he chose to drop out and take the entrance exam for the Shandong University of Art again. Unfortunately, he lost his candidate file even if he passed the exam, so he missed his dream school again. At that time, his whole family moved back to Qingdao, so Yang became a senior again at Qingdao No. 3 High school and finally was accepted by his dream school in 1987.
Although Yang favors oil painting more than Chinese painting, Shandong University of Art only accepted Chinese painting major students in 1987. However, Yang still had a memorable and valuable time during his college.
"Since there are many other art majors, such as music, theater, and dance, in the Shandong University of Art, so I could be able to immerse in different art fields, and I really enjoyed it," said Yang.
Hongxiang Zhang, a university professor at the school, impressed Yang the most and altered his attitude toward the art. Zhang was about 46 years old when Yang went to the university, but they developed a very close relationship, which Yang called "friendship between generations."
"Professor Zhang is such a diligent person with strong dedications to the art. You have to see how he paint to know the definition of 'so absorbed that forget to eat and sleep,'" Yang said.
At that time, the government would assign college students to national companies or government offices after graduating. The place where Yang was assigned was a local court, and he was responsible for propaganda.
Yang did not want only to do propaganda in the court, so he studied the law at the National Court of Amateur Law University as a part-time student for three years. After that, he studied law at Shandong University as a part-time student and got a bachelor's degree in law. From 1998, after he had a bachelor's degree in law and passed the legal professional qualification examination, he became a judge.
While Yang busied with cases and works, he rarely had time with his painting. However, with some of his college friends' influences, he began to draw again in 2006. He started with oil painting and watercolor painting, and his topic mainly focused on the scenery in Qingdao. In 2008, he and two of his friends established an oil painting art studio called "One Two One."
In his daily life, Yang keeps a healthy lifestyle. He was a college athlete, so exercise and sport is also an integral part of his life, especially soccer. Yang had a group of friends who are all soccer fans and they would play soccer together every Saturday afternoon. They called each other "soccer friends."
"Yang is a very accessible and humorous friend. Wherever he is, there will always be laughs," Yong Wang, one of Yang's soccer friends, said.
All of those unique experiences with drawing and painting create Yang's distinguished porcelain painting styles. You could see oil painting and watercolor painting on his porcelains, as well as Chinese painting. Yang planned to retire this year, so he would have time to delve into his art world and publicize the porcelain painting.
Beginning in 2018, Yang holds a porcelain painting class at his studio, and it has no pre-requisite and is open for all age groups. The class is nonprofit and only charges for the material fees. Yang said he wants to let more people know about porcelain painting in this way.
"I want to promote the porcelain painting overseas, and I have plans. Besides continues to draw on the porcelain, I also want to manufacture more daily porcelain objects such as coffee mugs, spoons, and cups. The only way to let people accept and know about porcelain is to connect their daily life with porcelains," Yang said.