Posted February 25, 2016
By DEVON-ASHLEY WADE
You only have one life to live and this film explains the secret to life, which is about making the right choices. "The Choice," an intriguing tale about love found and lost, takes the audience on a romantic journey, from precious puppies, meaningful gazebos and tinkling seashell wind chimes. All of which gave the audience pleasure in escaping everyday life with a tale of a passionate love affair.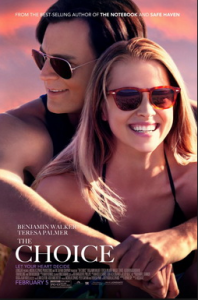 Based off the bestselling novel "The Choice" by Nicholas Sparks, comes the first movie directed by Ross Katz. This movie featured in a coastal town of Wilmington, N.C., and with picturesque nature shots from beginning to end felt like a perfect work of art.
Adding to that are the various shots of adorable dogs, perfect sunsets and an exquisite fantasy-oasis. This dream-like setting is based on the best-selling books by Nicholas Sparks, for example "The Notebook."
Generally, the film targets an audience that is attracted to tales of love and fantasy that confront one or two obstacles that will weigh on the heart, while not being mentally demanding. "The Choice" drove both laughter and sadness from the audience.
However, the concluding scene was slightly insulting. "The Choice" includes a scene that minimizes the importance of one of the toughest decisions a family member must make. The trailer gives a quick glimpse of what that "choice" is, which was truly a spoiler for the viewer.
Casting plays a pivotal role in making this love story at least somewhat satisfactory. "The Notebook," another of Nicholas Spark's contemporary classics, is often times compared to "The Choice." "The Notebook" showcased major stars and a real-life couple Ryan Gosling (Noah Calhoun) and Rachel McAdams (Allie Hamilton), which contributed to millions loving the film.
But "The Choice" uses two principal actors, where the audience might find itself hoping for a more attractive couple, rather than one lacking strong features, therefore making the relationship unattractive.
Travis and Gabby continuously said to each other throughout the film, "You bother me." This phrase constantly reminded the viewer of how bothersome it was to watch those actors on the big screen, making the viewer say, "You both bother me just watching you."
Travis Shaw, played by Benjamin Walker, best known for starring in "Abraham Lincoln: Vampire Hunter," is a charming man portraying an ideal single lifestyle with a good job, loyal friends and a beautiful waterfront home. However, he is afraid to find true love, because he thinks it will change his lifestyle. Often times, he is considered a jerk and one who is inconsiderate to his neighbor by the way he throws loud beer and BBQ parties.
Gabby Holland, played by Teresa Palmer, is the new medical-student neighbor who huffs and puffs in annoyance from her home that readily provokes disagreements between her and Travis. They had a relationship, which started with constant bickering and then channeled into a deep romance that neither could have foreseen.
Travis frequently sits outside and drinks a beer in the single chair on his lawn. The chair served as a symbol of his commitment issues. He has a girlfriend, Monica, played by Alexandra Daddario, who was referred to as the "boomerang" because of the way she would always come in and out of Travis' life.
Gabby has a boyfriend, Dr. Ryan McCarthy, played by Tom Welling, who left the door wide open for Travis and Gabby to fall madly in love, when he decided to go away on a business trip. Later on, it would pose a lot of friction for the young couples' relationship.
Of course, since this is a film inspired by Nicholas Sparks, the love story can be considered a tearjerker by the way in which the characters are subjected to obstacles that keep them apart, rather than a fairy tale relationship. The obstacles faced in "The Choice" develop the drama within the storyline. With "The Choice," Director, Ross Katz, finds parallels but does not emulate the obstacles that were presented in "The Notebook."
In "The Notebook," the obstacle that kept the characters apart happened in two phases: Allie's engagement to Lon and Allie's Alzheimer's, which kept her from remembering Noah. In "The Choice," there were also two obstacles: Gabby's serious boyfriend Dr. McCarthy and when Gabby was in a coma, and the thoughts of her never awakening was troublesome for Travis. When comparing both films by Nicholas Sparks, one can note how they are seemingly familiar, but yet unique in their storyline.
Before a happily ever after, there was a near-fatal accident that led to Travis making a life-changing decision. Since, the film began with a scene of him entering a hospital with a bouquet of flowers, along with a voiceover stating the choice that he will have to make, the audience is slightly informed of what the choice is. So, in a sense, the beginning of the film was a spoiler for the audience.
In films that are inspired by Nicholas Sparks, there always tends to be a positive outcome. Travis went from being a charming ladies' man to one who was loyal and sleeping on the floor with newborn puppies. There is also a scene depicting a perfect marriage proposal, which seemed coincidental seeing that Gabby's mother had the grandmother's wedding ring with her at the exact time Travis was going to propose. Lastly, the evening rowing to an island for some stargazing creates a dream-like setting. In a sense, all of these instances make the audience long for a romance similar to Travis and Gabby.
This is the sort of film that drives everyone to fantasize on having a perfect relationship. It tests the boundaries of love touching on the importance of every path that led to a choice.
"The Choice"
Release Date: Feb. 5, 2016
Distributor: Lionsgate
Lead Actors: Benjamin Walker, Tom Welling, Tom Wilkinson
Lead Actresses: Teresa Palmer, Maggie Grace and Alexandra Daddario
Run Time: 111 minutes
Director: Ross Katz
No subtitles
Rated PG-13
Four stars