Posted March 20, 2013
By ISABEL BRADOR
The film "Warm Bodies," delivers exactly what is promised: a darkly humorous and endearing story of a zombie boy who falls in love with a very much alive human girl.
Nicolas Hoult does a superb job of  playing the love struck zombie protagonist, R.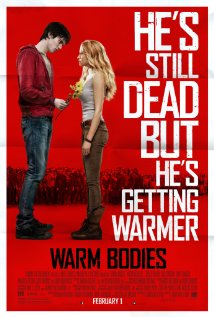 Meanwhile, Teresa Palmer is charming and lively as Julie, the human survivor and R's unlikely love interest.
Director Jonathan Levine, also director of the film "50/50" expands the film beyond the parameters of a quirky love story by adding poignant commentary on society and the human connection.
The film, which is set in a modern post-zombie apocalypse America,  begins with an darkly humorous internal monologue by R. The cynical comments and the irony used by Hoult's character hint at just how dysfunctional modern day relationships and daily interactions between humans can be. Levine's choice to add this kind of commentary adds depth to the film without making it awkward for audience members who are watching the film just for laughs.
Besides tongue-in-cheek social commentary on human interactions, the movie also subtly highlights the importance of these relationships. Throughout the film, R slowly begins to transform into a more human version of his zombie self as his contact with the charming and vivacious Julie increases.  His interactions with her begin to bring him to life both figuratively and literally.
Yet, the film manages to somewhat stay true to the zombie genre. There are plenty of bloody and gory scenes and it's spooky enough to remind viewers that zombies are still dangerous characters.
Also, the main antagonists in the movie, "Bonies," which are essentially zombies which can never regain their humanity, are creepy enough to get the audience's adrenaline flowing whenever they appear into a scene.
Thankfully, the movie manages to be cute and heartwarming without being campy or isolating older audience members. Even the direct allusions to the story of Romeo and Juliet (i.e., when Julie looks down from her bedroom balcony to find R waiting there and the fact the main characters are named Julie and R) are directed in a way that is easy to swallow.
The only hiccup comes when some scenes are stretched to the point of incredulity.  Like when Julie and R go for a joy ride in a convertible on the runway of a zombie-infested airport.
Overall, "Warm Bodies" is a delightful, funny and heartwarming story and definitely a feel good movie with a feel good message. Movie goers looking for a laugh and a different take on the soon-to-be-overdone zombie theme will be in for a nice evening.
"Warm Bodies"
Released on Feb. 1, distributed by Summit Entertainment
Directed by Jonathan Levine
Starring Nicholas Hoult, Teresa Palmer, John Malkovich
Runtime: 98 minutes
MPAA rating: PG-13
Reviewer's Rating: 3.5 out 5 stars
Playing at nearby movie theaters: at AMC Sunset Place 24, Movies at the Falls 12, Regal South Beach Stadium 18