Posted March 21, 2013
By LAURA MORCATE
From poor rationalizations to delusions of love, "Silver Linings Playbook" strips us down to the core of our being and offers an enlightening take on the rules of normalcy. Though I hate to ruin the film, here's a spoiler — there's a little loony in all of us.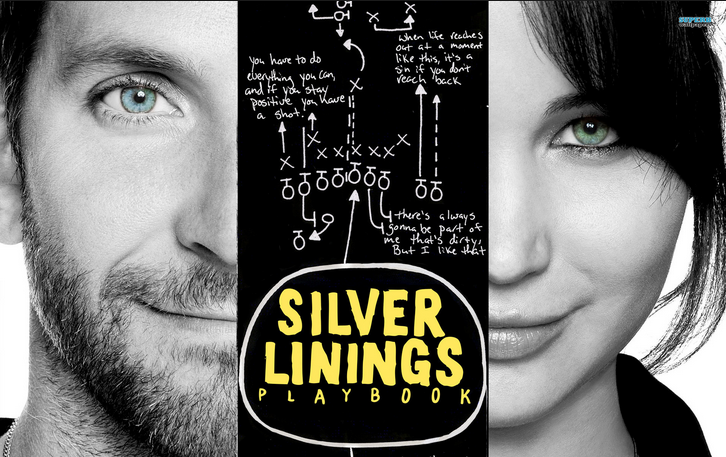 The camera is nervous and shaky as it follows Pat (Bradley Cooper) from a mental hospital to his parents' Philadelphia home.
Pat suffers from "undiagnosed" bipolar disorder — and has attacked his wife's lover, lost his job, and consequently spent eight months in a facility learning to control his compulsions.
His release is questionable, however, he is determined to adapt to an "excelsior" philosophy — taking measures to improve his lifestyle and practice optimism in order to win back his wife. But it won't be easy. He tends to say inappropriate and insensitive things, and he refuses to take his medication. He reads Ernest Hemingway's "A Farewell to Arms" and is passionately distressed about its unhappy ending. However, he is serious about his recovery.
And so is Tiffany. She is a similarly neurotic, young widow, who has medicated herself by sleeping with all of her male (and female) co-workers. Brilliantly played by Jennifer Lawrence, we learn that her struggles continue to lead her down a self-destructive path. However, when Pat and Tiffany's world collide, the plot shifts to a beautifully depicted story of two lost souls trying to find the silver linings in their dark clouds of despair.
The two oddballs hit it off as friends, though Pat still obsessively strives to reconcile with his wife — on whom he's been issued a restraining order. But Tiffany offers to pass along a letter to his ex, who she sees regularly — if Pat will help her achieve her burning desire to compete in a local dance competition.
As their deal plays out, an unexpected bond begins to form between them. The dialogue here is remarkable — because Patrick and Tiffany lack the inhibitions and filters of sane beings, the kind of genuine conversations and interactions between them are truly captivating, and often insightful — "Pat, you are afraid to be alive. You're afraid to live. You're a conformist. You're a liar. I opened up to you and you judged me. You're an asshole. You're an asshole!"
This unlikely blend of humor and mental illness succeeds in no small part due to the impeccable cast. Cooper can both deliver the one-liners and convincingly unleash the dramatic fury, while the smoky-eyed and sensual Lawrence offers a sultry sensitivity and appeal that conveys maturity much beyond her young years.
Nevertheless, supporting roles played by Jacki Weaver, Robert De Niro and Chris Tucker also impress as each portray quirky, unique personalities that up the craze and amplify the laughs.
"Silver Linings Playbook" is in it's essence a romantic comedy, but it succeeds in revitalizing the often discredited genre by offering a meaningful and intelligent, yet charming and gritty alternative to the clichéd cheesy, fairytale types.
The film is as engaging and unpredictable as it is honest. You'll find the fun in dysfunction — and cling to the often weeping and shouting cast as they ultimately prove to be a lovable gang of misfits just searching for their place in the world.
And after all, aren't we all?
"Silver Linings Playbook"
Release date: Nov. 16, 2012
Distributor: Weinstein Company
Leading Actors: Bradley Cooper, Jennifer Lawrence, Robert De Niro, Jacki Weaver
Director: David Russell
Run time: 122 minutes
Local screenings: Sunset, Paragon Grove, Dolphin
Price: $11
MPAA Rating: R
Personal rating: B