Posted May 2, 2013
By ALEJANDRA GUTIERREZ
Depeche Mode released its new album, "Delta Machine," on March 26 worldwide. In anticipation, the band released the video for the first single, "Heaven," on Vevo on Feb. 1. The British trio will present its new job at the Bilbao BBK Live; which is to be held from July 11 to 13.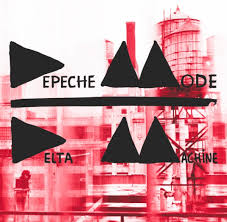 The first single, "Heaven," is a ballad in the predominantly light guitar and vocals of Martin Gore. "Welcome To My World," which opens the album, begins with Dave Gahan singing.
"Angel" is the typical song from the electronics, industrial and rock that Depeche Mode have a good time doing. Continuing in the same manner, "Secret To The End," which grows to reach the chorus with Gahan and Gore sharing role of vocalist, is an exceptional song that resurrects the band's 1980s-style.
"My Little Universe" has a more experimental side. A synthpop ballad with great melodies accompanied by Martin Gore made ​​in for a perfect vocal performance by Gahan.
It is a pity that after a good start, suddenly the track gets spoiled. Among the awful guitar riff, and inconsequential arrangements of Gahan, Slow gets to be one of the most expendable of the group's songs.
The same happens with "The Child Inside," a sugary ballad sung by Martin Gore. In between is Broken, which, without being a bad song, it does not leave the good taste that the first five songs. However, looking on the bright side, it is only three songs. Slow, boring, but bearable.
Another major theme of this last part of the album is "Should Be Higher," full of synthesizers, with Gahan and his falsetto chorus going off on a 100 percent Depeche Mode: "Your lies are more attractive than the truth."
"Delta Machine" is the trio's 13th release by Depeche Mode. It was recorded last year in Santa Barbara and New York, produced by Ben Hillier and mixed by Flood. Parallel to the release of the album on CD, Depeche Mode will released 'Delta Machine' in an exclusive deluxe edition with four new bonus tracks and a 28-page book with photographs by artistic collaborator, Anton Corbijn.
Depeche Mode have grown to become one of the most influential groups in modern music surpassing 100 million copies sold. Formed in 1981, Depeche Mode's Gore, Gahan and Andy Fletcher, continue to be acclaimed by critics and public in all around the world for both their work in the studio, as well as their live performances. DP's last album to date, Sounds of the Universe, debuted straight at No.1 in 14 countries.
Artist: Depeche Mode
Album: "Delta Machine"
Label: Columbia, Mute
Producer: Ben Hillier
Release Date: March 26, 2013
Price: $19.99