Posted April 16, 2015
By BRENDA MCGRANE
"Unbreakable Kimmy Schmidt"—the new comedy from "30 Rock" masterminds Tina Fey and Robert Carlock—was originally supposed to air on NBC this spring. It has a network-friendly premise: full of humor, deep onyx and plenty of "30 Rock" references; yet NBC ultimately passed on the series, making a smart business move for the network based of unbreakable Kimmy's disappointing debut.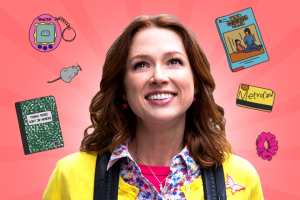 Instead, the first season was picked up by Netflix to be released in full—13, 20 minute-long episodes—which perfectly go uninterrupted by commercial breaks as the plot immediately throws numerous unbelievable twists and turns that sometimes leave the viewer struggling to keep up.
But if watching a comedy about a 29-year-old woman with the maturity of a 10-year-old girl, who prefers to eat shark-shaped candy gummies for dinner (because she can) and wear light up, hot pink sneakers while yelling "Wee!" on the subway is your thing, then "Unbreakable Kimmy Schmidt" is for you.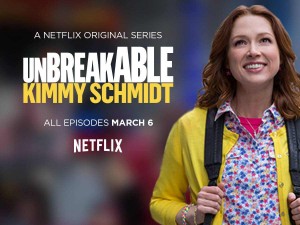 The series begins as a wide-eyed and fish-out-of-water title character Kimmy Schmidt (Ellie Kemper) is rescued with three other women from an underground bunker where they have been held hostage for 15 years by a doomsday cult leader, Rev. Richard Wayne Gary Wayne (Jon Hamm). Periodic flashbacks illustrate what life was like during their confinement; a time they thought the world had ended.
After the women, labeled the "Indiana Mole Women" group share an appearance on the "Today" show—with nothing short of makeovers and donations—Kimmy impulsively decides to stay in New York in effort to avoid living a life victimized. Equipped with a backpack of some cash and two middle school paperback novels, Kimmy sets out to find a job, apartment and discover what she's missed of pop culture since she was kidnapped just shy of graduating from the eighth grade.
The storyline develops quickly as Kimmy responds to an apartment ad listing by kooky landlord Lillian (Carol Kane) and moves in with flamboyant and broke roommate Titus (Tituss Burgess), whom works in a tattered, wannabe Iron Man costume handing out flyers in Times Square instead of fulfilling his dream of working on Broadway. Kimmy and Titus become good friends, although it is obvious that Titus is overwhelmed by Kimmy's optimism and only tolerates her because is naively paying rent for the two of them.
When Kimmy catches a small boy and psychopath-in-training named Buckley stealing from a candy store, she reports him to his narcissistic and oblivious mother Jacqueline Voorhees (Jane Krakowski)—the most tolerable character by far—who in turn offers Kimmy a job as a nanny. Upon accepting, Kimmy faces new challenges pleasing the overly rich Voorhees family; and many jokes tied to Kimmy's general cluelessness about modern culture are yielded.
The second and third episodes proceed like its premiere, loaded with painfully annoying list of characters, predictable sitcom-like humor and half-witty lines. While "Unbreakable Kimmy Schmidt" should benefit from having a celebrity producer promoting the series, the show itself has a tired feel to it that left me relieved when I was reminded at the end that it was only a short, 20-minute episode.
The underlining synopsis definitely relates to the tragedy Kimmy endured, however the show itself aims to follow an optimistic character discovering life as a child-adult. Unfortunately, "Unbreakable Kimmy Schmidt" is not binge-worthy.
Title: "Unbreakable Kimmy Schmidt"
Network: Netflix
Release date: March 6, 2015
Length: 13 episodes, 20 minutes
Genre: Comedy
Rating: 2 out of 5 stars