Posted April 9, 2013
By HADLEY JORDAN
The University of Miami's Lowe Art Museum has one of the most comprehensive permanent collections of western and non-western art in South Florida.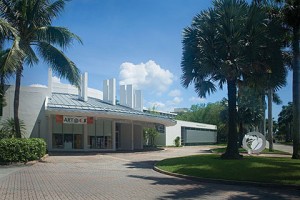 Though the majority of the permanent collection focuses on ancient antiquities such as pottery, textiles and jewelry as well as Baroque, Renaissance, and impressionist paintings, the Lowe has been growing its contemporary photography collection.
Its most recent addition to the permanent collection is Mary Ellen Mark's photograph "Tiny in her Halloween Costume" from Seattle, Wash., 1983, purchased after Mary Ellen Mark visited the school to do an artist's lecture and showcase.
"Tiny in her Halloween Costume" is from one of Mary Ellen Mark's best-known photo essays entitled "Streetwise" published in Life Magazine.  The black and white photo is a portrait of a young teen in Seattle who had left home in favor of living on the street with other teens who survived by stealing, begging, scavenging and even prostitution.
Tiny had pieced together this costume to look like a French prostitute. This somewhat sad portrait portrays Tiny with a harsh face, hardened by life on the streets.
Mary Ellen Mark is considered one of the most accomplished photojournalists of our time. Mark has photographed teens living on the street, an Indian circus, a women's mental hospital and prostitution in Bombay.
Mark was quoted about her choices of subjects in an interview in 1987, "I feel an affinity for people who haven't had the best breaks in society. What I want to do more than anything is acknowledge their existence."
Another recent addition to the collection is Sally Mann's photograph "Emmett, Jessie, and Virginia," a black and white portrait of Mann's three children. The portrait features the three children standing nude next to each other in nature. Sally Mann visited the University of Miami in 2012, doing an artist's lecture and small showcase of her works.
Mann is known for her intimate and controversial portraits of her family, in particular her nude portraits of her young children. Mann experiments with alternative processes in photography, using an 8×10 bellows camera and processes such as platinum, bromoil and the wet Collodion.
The collection also houses a Cindy Sherman print, "Untitled (Pregnant)."
Cindy Sherman is an artist who is best known for her conceptual self-portraits.  Her series "Film Stills" included a series of self-portraits made to look like stills from movies.
Her current work features Sherman acting out different characters she has created using makeup, costuming and even prosthetics to create large scale, color exaggerated non self-portraits.
"Untitled (Pregnant)" is a color portrait of a very pregnant woman in a wet, white button shirt. The prosthetic chest and pregnant stomach was purposefully obvious, and the exaggerated makeup leads to the instability the character Sherman is playing represents.
Nan Goldin's "Suzanna and Philippe on the Train, Long Island" is a color portrait of a woman and a man on a train. The man is sleeping across her lap while her arm is around him. The harsh fluorescent green tonality of this photograph takes the viewer off guard, creating a ghoulish glow in this scene.
Nan Goldin is known for her "snap shot" style of documentary photography, documenting the every day lives of her friends, relationships, and herself in the available lighting. The strikingly true nature of her photographs is as gripping as the harsh colors she uses. Each photo, like "Suzanna and Phillipe on the Train," tells a mini story with honesty and sometimes harshness.
The photography collection at the Lowe also houses other artists' works, such as the famed humanitarian artist Vik Muniz, the sculpture and photographic artist Sandy Skoglund, Stephane Couturler, Tatiana Parcero and Zhang Dali.
Though the collection isn't very large, it is strong, and often overlooked by museumgoers in favor of the other exhibits on permanent collection such as Native American Art, the Kress Collection of Italian Renaissance and Baroque Art, or the Palley Pavilion for Contemporary Glass and Studio Arts.
The photography collection is steadily growing, though, and worth going to see.
Museum: The University of Miami Lowe Art Museum
Collection: Contemporary Art
Location: 1301 Stanford Dr., Coral Gables, Fla.
Hours: Tuesdays-Saturdays 10 a.m.-4 p.m., Sundays 12 p.m.-4 p.m.
Rating: B-