Posted February 27, 2015
By MELISSA RAE OSTROFF
Anastasia Steele, the protagonist of "Fifty Shades of Grey" by E.L. James, is the type of woman who stays out of trouble. She lives an ordinary life; finishing up her last year of college and working in the local hardware store to make ends meet.
That is, until she meets the charming Christian Grey, who takes her breath away from the moment that she meets him.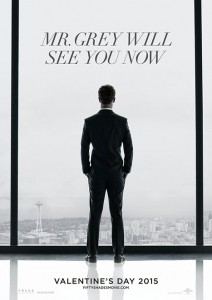 However, he is not the typical prince charming. Behind his intimidating stature and impersonal glare hides a man who is deeply damaged and disturbed with a "playroom" full of whips, chains, and floggers.
Although this movie is a refreshing approach to the typical "happily ever after" romantic comedy, there are some scenes where the viewer may ask him or herself: Where does one draw the line between a submissive/dominant relationship and abuse?
Eerily similar to Bella and Edward from "Twilight", Anastasia Steele and her object of affection, Christian Grey, could not be any more different.
Christian is a wealthy business professional who makes infinite amounts of money, yet is cold and does not have meaningful relationships with anyone.
Anastasia, on the other hand, is incredibly warm and caring. She is a romantic at heart, and wants a warm relationship with Christian Grey in which they can go out to dinner and movie dates, cuddle and sleep in the same bed.
However, Grey is not interested in any of these things. Yet, despite this, he seems to have an overwhelming desire to keep Anastasia in his life. He goes to great lengths to find her when she disappears, to the point at which he stalks her. She is the only person who can bring out any semblance of humanity within him.
Anna originally meets Christian when she has to interview him about his life and career. Christian is clearly taken by her and shows up at Anna's workplace a day later.
Although Anna is clearly seduced by Christian the moment she locks eyes with him, it is not plausible that she would not be a little uncomfortable with the fact that he just randomly shows up at her workplace, as if he is stalking her.
He has the means to figure out everything about her, including where she lives, works and goes to school. At one point he even shows up randomly in her house. However, these creepy details are glossed over because he is "oh so irresistible" and "sexy."
At the hardware store, he buys cable ties, rope, and tape. It is difficult not to see how this wouldn't alert some red flags in Anna's mind. She is entirely aloof and oblivious, which is why Christian likes her; he feels that he can control her.
During most of the movie, nothing much happens at all. Instead of the wild sex scenes that the movie promises in the trailer, there are more scenes where Anna just bites her lip while Christian stares at her like she is his prey. It became incredibly repetitive and quite uncomfortable and awkward to watch.
It makes sense that the producers would want to make a point of building sexual tension, but they definitely tried too hard. The scenes where Anna and Christian are intimate are not believable; there is not much chemistry between the two. Anna oversells her pleasure and it comes off as forced and unnatural. This aspect of the movie certainly did not live up to its hype.
Both the characters of Anna and Christian are one-dimensional, which makes it difficult to become emotionally involved in the plot. Part of the problem is that Christian, who is supposed to be the "prince charming" of this twisted love story, is not likeable at all.
Although he is a supposedly tortured sole with a rough past, his control freak attitude and sexist/stalker tendencies make his personality incredibly unappealing. For example, when Anna doesn't tell him that she is going to visit her mom for a few days in Georgia, he follows her there and randomly shows up at a restaurant where Anna and her mom are having lunch.
Although this movie has intense themes such as love, lust, abuse and power, it doesn't come to a clear resolution or leave the viewer feeling satisfied. Part of the reason for this, however, is that the book is part of a series, and the movie only covers the first book.
The actors do a mediocre job at acting out their respective roles: Anna as an awkward and shy young woman and Christian as a sexy yet sociopathic man. Yet they lack depth, and it's difficult to empathize with either of them. They didn't appear passionate enough during their sexual scenes, which seemed mechanical and impersonal.
It is also unclear exactly what kind of statement this movie is attempting to make about abuse, the world of BDSM, and forbidden love.
Title: "Fifty Shades of Grey"
Release Date: Feb. 13, 2015
Runtime: 125 minutes
Starring: Dakota Johnson and Jaime Dornan
Director: Sam Taylor-Johnson
Production Company: Focus Features
MPAA Rating: R
Personal Rating: 2/5 stars