Posted April 18, 2017
By MICHAEL FRANCA
Sam Ahmed is a 24-year-old hip-hop artist from Milwaukee who goes by the stage name "WebsterX." Since signing to Chicago label Closed Sessions, he has seen an increase in hype and attention at the national level, despite a limited catalogue.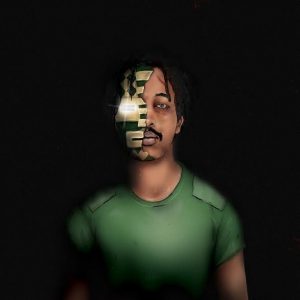 WebsterX's discography consisted of a career-starting 2013 mixtape titled "Desperate Youth," a three-track 2016 EP inspired by Radiohead titled "KidX" and a handful of loose singles.
Still, he has managed to keep people interested in him and his music long enough to release his debut album, "Daymares."
"Daymares" – the 15-track album – was officially released on March 24.
"Daymares is an accumulation of my life from years 2013-17, the whole road of this WebsterX thing," he said in a statement to The FADER magazine. "A roller-coaster of ups and downs that got me to this point, the insane experiences I've been able to be a part of with my friends by pursuing art, and my rise in my home city of Milwaukee, WI and beyond."
The album opens with the track "Nightmares," introducing listeners to the alternative approach to Hip-Hop that WebsterX takes. Lyrically, it is apparent from the very beginning that he takes inspiration from the famously depressive Kid Cudi. He muses on his internal struggle with darkness and questions why his brain works the way it does.
"What made you wanna think like this? / All the thoughts run through like the parasites did," he asks.
Sonically, though, WebsterX tackles these troubles differently. He raps and sings over bright and synth-heavy production that contrasts much of Cudi's dark and eerie instrumentation.
Following the intro, the album picks up the pace with a string of four spacey, yet up-tempo songs, culminating in the standout track "Intuition." During this stretch, WebsterX shows his worth as a songwriter with big, ambitious vocal and instrumental arrangements. He also proves to be a more than capable lyricist, penning introspective verses and catchy hooks.
After "Intuition," the album hits a minor lull. The subsequent songs are by no means weak, but they don't stand out quite as much. The hypnotic song "Moods" slows the tempo of the album after the previous high. This is followed by "Soul Shatter" which had the potential to be one of the best songs on the entire album thanks to the sharp synth inflections and bouncy flow. Unfortunately, it runs just 54 seconds, leaving the listener wanting more.
After that we are treated to a behind-the-scenes look at the man on a 29-second spoken interlude titled "We Have Fun Trying." It is a seemingly unplanned recording that captures him motivating a friend to "try" even though they are discouraged, and have fun doing so. This adds to the narrative experience as listeners become more acquainted with the artist through his art.
Next comes "Quiet" which may be the biggest miss on the album. Its simple hook is slightly disappointing as it strays from his signature ambition. The verses on this song are witty at times, but not strong enough to save it entirely.
From this point the album hits its stride again, and even improves on its earlier highs. It enters the best run on the album, with the six remaining tracks all impressing. The best of these is the 12th song on the track list, "Tick Tock," which finds WebsterX at his sunniest and most hopeful. He amplifies the "positivity in the face of darkness" mentality that permeates the whole album and delivers an irresistible hook – the sort that makes it impossible not to sing along.
The outro track "Endless" is a musical victory lap for WebsterX. He calls for "endless celebration" as he acknowledges his escape from darkness.
"This is what will play on my way to the gates up in heaven," he raps. With this song he invites listeners to experience the euphoric high he seems to be experiencing at the moment, and successfully creates a sonic landscape conducive to the feeling.
The song closes with him thanking various people for their contributions to the album and his life. This is not unique to him, but it is a fitting end to the victory lap.
Overall, "Daymares" shows an artist with an extremely promising future, seemingly on the cusp of a breakthrough. WebsterX takes some of the best traits from Kid Cudi's music (honest introspection, personal stories, etc.) and avoids some of the pitfalls that Cudi doesn't (sounding moody or whiny). The result is a cohesive and engaging album with loads of replay value.
Still, the young artist has plenty of room for growth. While he does does point to specific reasons for his depression such as a low self-esteem caused by a lack of response to his first mix tape, and feeling out of place as a black man raised in a white school system, he does this at a surface level. If he can delve deeper into these issues and cut a couple of the less impactful tracks, he can provide an even more emotionally gripping listening experience. Thankfully, he has the musical potential to do this and more.
Title: "Daymares"
Artist: WebsterX
Available on: iTunes, Apple Music, Spotify, Tidal, Soundcloud
Full Album Price: $9.99
Cost Per Track: $1.29
Label: Closed Sessions
Run time: 15 songs, 48 minutes
Release Date: March 24, 2017
My Rating: B+