Posted April 2, 2015 
By DONATELA VACCA
"No one mourns the wicked, now at last she's dead and gone," chant the citizens of Oz. However, Wicked is not gone at all.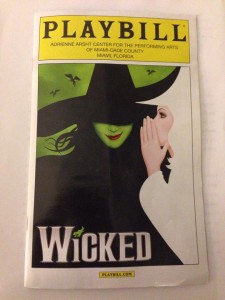 Back in Miami for the third time, the musical returns to the Ziff Ballet Opera House with a brand new cast that almost outshines the Broadway stars.
Based on the novel by Gregory Maguire, Wicked has been played all around the world. Although base camp is in New York, they do have a national touring company that has been bringing the magic to different cities for more than 10 years.
This time, the ensemble performing in Miami seems to shine as bright as the Emerald City itself, with astonishing performances, an innovative stage and a pristine orchestra.
The beloved musical is a prequel that tells the story of what happened before Dorothy dropped into the world of the Wizard of Oz, and how the Wicked Witch of the West became wicked during her younger years of suffering, loss and hatred.
Directed by Joe Mantello and staged by Wayne Cliento, the company is led by two fresh and exceptional actresses who give quite a funny twist to the dark characters of Glinda and Elphaba.
As powerful female leads with magnificent voices, Alyssa Fox (Elphaba) and Carrie St. Louis (Glinda) make the auditorium vibrate with standing ovations and never-ending applauds.
It is true that, whenever new cast members come around, there is a feeling of uncertainty, especially having the Broadway play as comparison. However, these young ladies prove that new talent does shine, and very bright indeed.
Repeatedly making the audience burst into unexpected laughter, the actresses prove how far they can go when exploring their emotional arc. Wicked is an emotional ride that explores feelings of rejection, prejudice, love, sadness and betrayal, and these girls surely succeed in taking us along with them.
St. Louis shines indeed, and not only because of her sparkly ball gowns. She portrays a very ecstatic version of quite an euphoric Glinda. With a high-pitched voice, golden curls and foot-in-the-mouth disease, she falls under the blonde mean girl stereotype. But, because of her lurking gift at impromptu comedy and her slight compassion for Elphaba, she tricks us into loving Glinda more than we should.
Fox also charms the audience, but in a much somber way. Her character, Elphaba, is more tormented so her acting is tied up to sorrow and pity. However, she manages to slip in some comedy, irony and awkwardness that help the wicked witch stigma seem less menacing.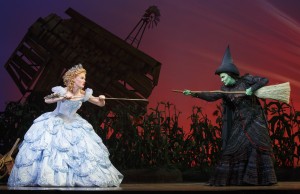 Like in every play, the two leads seem to be competing for the spotlight with several musical numbers where each shines individually.
In "Popular," St. Louis' performance is politely interrupted by great feedback in the form of loud laughter and tremendous applause, and during "The Wizard And I" Fox fervidly voices both the weakness and the power that Elphaba really has within her.
Yet, the spotlight competition remains a tie. Both performers deliver the same passion, quality and professionalism, as well as rumbling solos and vocal registers of all sorts.
The stage, designed by Tony-winner Eugene Lee, seems almost too good to be true. With a gigantic tin dragon lurking on top, moving structures, realistic sets, flying monkeys, soaring actors and colorful lighting effects, Oz comes to life in the best way possible and two worlds collide.
The wonderful costumes, designed by Susan Hilferty, are so spectacularly tailored that they seem to be taken from Marie Antoinette's exquisite closet rather than a theater rack, especially those from the musical number known as "One Short Day," where Elphaba and Glinda venture out into the sparkly, glamorous and chic neighborhood of Emerald City.
The eccentric costumes and weird wigs, along with graceful choreographies make us wonder if we are witnessing Oz's classiest citizens, or the snobby residents of The Hunger Games' capitol, whose style and poise uncannily resembles that of Emerald City.
For theater lovers the cherry on top is the fact that Wicked is accompanied by an outstanding pit orchestra of 10 musicians that play live music making the play much more interesting, vivid and spontaneous.
Hearing the sound of trumpets, drums, guitars, flutes and piano instead of recorded music, is an incomparable feeling that not only makes for great acoustics, but also an emotional empathy that produces the good kind of goose bumps.
Everything fits perfectly. As the orchestra gracefully interprets Stephen Schwartz's score, the actors, costumes, songs and choreographies work in unison to transport the audience into a world of magic and wickedness.
Contrary to popular belief, this interpretation of Wicked might just surpass the Broadway version. It seems like the magnificent venue that Adrienne Arsht Center offers, along with the eager tour cast members make for a ticking time bomb that turns the musical into a must-see for all South Floridians.
Even though the storyline is quite magical and fairytalesque, it is certainly not appropriate for children under six years of age. The scary dragon, the Wizard's gigantic evil looking mask and the witch hunters that sing along the menacing lyrics of "March Of The Witch Hunters" might be too unsettling and frightening for the little ones.
So, although the tickets are quite pricey and the seats somewhat uncomfortable, this year's ensemble delivers a spotless performance worth a night, as well as a chance to relish inside the beautiful Ziff Ballet Opera House.
Name: "Wicked" by Stephen Schwartz and Winnie Holzman.
Main cast: Carrie St. Louis, Alyssa Fox, Kristine Zbornik and John Davidson.
Where: Ziff Ballet Opera House at the Adrienne Arsht Center for the Performing Arts, 1300 Biscayne Blvd., Miami, Fla.
When: Tuesdays through Fridays at 8 p.m., Saturdays at 2 p.m. and 8 p.m., Sundays at 1 p.m. and 7 p.m. There are no shows on Mondays.
Dates: starts on March 22 and runs until March 29.
Cost: $49-$195 (lottery for $25 orchestra tickets is available at the box office two hours before each show, cash only, maximum two tickets per person).
Personal rating: 4 stars out of 5.
For more information dial 305-949-6722 or go to http://arshtcenter.org