Posted March 31, 2015
By MELISSA SOTO
Awareness of cyclists is finally being raised in the city of Miami.
ARTcycle 2015 is an exhibition at the Coral Gables Museum that brings together both local and international art addressing current cycling issues.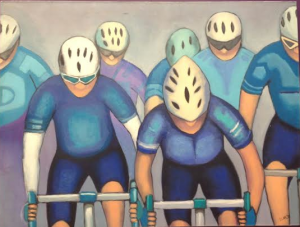 The exhibition focuses on cyclists and how they do matter contrary to what some drivers in Miami believe.
ARTcycle is based in New York, but has different exhibitions throughout the United States.
This exhibition unites modern art with a strong message behind each piece. The first work of art seen upon entering the exhibition is on the left. "The Greatest Show on Earth" created by César Santaló, is made up of two bicycles united at the front tire with a circus display in the back. One bicycle comes from Cuba, while the other is from the United States.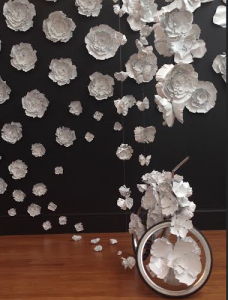 Here in Miami there are many Cubans and Cuban Americans, so this not only displays the unification of cyclists but Cubans and Americans together. It is well fitting for this community in South Florida where there is a large Cuban influence on life and culture.
Strolling through the gallery, a beautiful turquoise and purple painting titled "Ciclista" will attract anyone's attention. Artist Lucy Varon uses bright colors to direct the eye to this oil painting consisting of a group of male cyclists riding together.
Their faces are framed mostly the same way and their sunglasses cover their eyes, but a sense of happiness is felt by these men riding as one.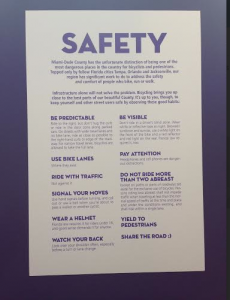 The average person might respect cyclists, but may not know the financial expense road cycling requires. Road cycling consists of lightweight bikes primarily ridden on the road for pleasure or competition.
Another piece is a bike completely covered in $100 bills and accented with gold parts. Art is open to many interpretations and for this piece, one view could be that cycling is a costly investment and that bikes should be taken care of. Another interpretation could be that cycling is so meaningful to some that no amount of money will be able to stop someone from doing it.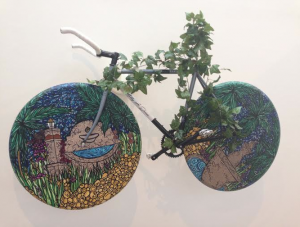 Another composition featuring gold does not focus on money, but more importantly the heart.
This work of art is a clear, see-through heart, filled with all the pieces that make up a bicycle. Accented all in gold, it reinforces the love that goes into the bike from the rider and the joy that the bike gives back to the rider.
This stunning piece was created by Clara Echavarria and is titled "Freedom Beats 2015."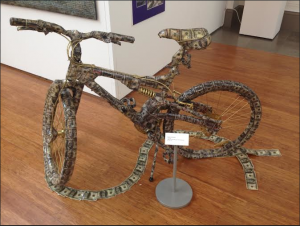 On the far right of the gallery, hanging from a white wall, is a bicycle titled "A City Beautiful Life." Created by Holly A. Jones, this bike perfectly demonstrates what cyclists see as they ride through the city of Miami.
Beautiful, bright colors, with stunning architecture of water towers and fountains surrounded by green grass and knee length flowers. This road bike is accented with green vines, which ultimately adds to the Spanish feel this bike is portraying.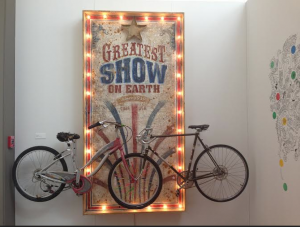 Artist Anabel Rub Peicher created the piece of art that stood out the most, not only visually, but also with its meaning. "Spirit" is made for all the cyclists who have died due to unfortunate events. The bicycle is covered with white flowers all around, behind, and above it.
According to Peicher, it symbolizes rising from the grounds to the heavens hoping to encourage people to cycle more. It's pays homage to those who have lost their lives on a bike and she believes this art will free their souls for eternity.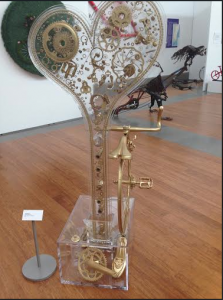 This flowered-covered bicycle brings people of different ages, races, backgrounds and beliefs together. Through this piece of art, she is trying to encourage people to hop on a bike and explore the city.
There are so many beautiful creations out there that cannot be explored from a car. Cycling for pleasure is relaxing and allows for the disconnection from the hectic everyday life.
Wrapping around towards the end of the gallery, there is a three-piece set created by artists Carolina Molina. "I am Holding You," consists of three bikes in a line hanging on a wall with white hands underneath them. The bikes look somewhat aboriginal filled with boomerang styled parts with tones of purple, yellow, green and blue.
ARTcycle is an event not only to show off beautiful creations of art relating to cycling but also to raise awareness for the cyclists and drivers in the City of Miami.
This exhibition offers safety guidelines to cyclists, giving them tips based off Florida laws on the road for cycling. Some of these are predictable, such as use bike lanes, ride with traffic, pay attention, wear a helmet and, more important, share the road. Unbeknownst to some drivers, cyclists do have the same rights to the road.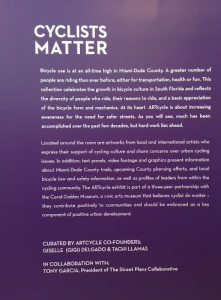 More people are beginning to ride bikes in Miami for leisure and for transportation and it's compulsory that drivers understand this.
Cyclists do contribute positivity to communities and this should be no different in Miami-Dade County.
As a city we need to embrace cyclists and have more patience when driving, not only so cyclists can do what they love but more importantly to prevent fatalities.
This art exhibition very creatively reminds all of us of this.
Exhibit: ARTcycle 2015- Cyclists Matter
Dates: March 6 to May 24, 2015
Location: Coral Gables Museum
Address: 285 Aragon Ave., Coral Gables, Fla. 33134
Telephone: 305-603-8067
Website: http://www.coralgablesmuseum.org
Hours: Tuesdays- Thursdays from 12 p.m. to 6 p.m., Fridays from 12 p.m. to 6 p.m. (Gallery Nights 10 p.m.), Saturdays from 11 a.m. to 5 p.m., Sundays from 12 p.m. to 5 p.m and Mondays closed.
Admission Fees: Adults $7, students and seniors (with ID) $5, children (6-12) $ 3, children (under 6) free and members free.