Posted on April 20, 2015
By DONATELA VACCA
"It is the end of the world as we know it," uncannily announce the opening credits of USA Network's new series "Dig."
Although it seems quite misleading, that is truly what it is all about. An apparent Armageddon steered by issues of religion, prophecies, conspiracy, politics and murder.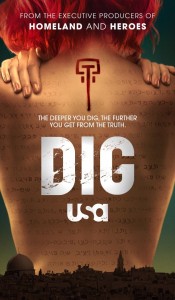 As an American-Israeli co-production, "Dig" explores much more than end of the world prophecies and intricate religions, appearing to be an interesting mixture between popular productions like "Homeland," "The Da Vinci Code" and "The Body."
Even though it seems like this new TV show might fall under the stereotypical archeology genre, because it all goes back to an archeological dig, it definitely doesn't. In fact, the pilot episode already pokes fun at "Raiders of the Lost Ark," implying that the creators are dealing with truly serious stuff.
Categorized as a mystery action-thriller, "Dig" is full of compelling enigmas begging to be solved. Led by well-known British actor Jason Isaacs and Anne Heche, the series follows the story of FBI agents, Peter Connelly and Lynn Monahan, as they accidentally uncover an international conspiracy thousands of years in the making, while investigating the murder of a young American archaeologist in Jerusalem.
Action-packed and gripping is certainly an understatement.
The pilot episode does start quite slow and flat, however as soon as the archaeologist is murdered the pace builds up fast and the action becomes a must. The first few minutes are slightly dragged, but it is clear the mood needs to be set up and that palpable action is about to come. And so it does.
Created by Gideon Raff and Tim Kring, who have worked on hit series like "Homeland," "Heroes" and "Prisoners of War," it is clear that "Dig" is on a roller coaster that only goes up.
Five episodes into the season and mystery is still eminent. What does a red-haired calf, a young boy eerily raised under isolation and the murder of a young American archaeologist have to do with the apocalypse? That is a discovery yet to come.
Although some viewers might get tired of such intrigue, it is precisely this mystery that keeps others hooked. Thanks to a balanced combination of action and suspense, the show acquires a pleasant rhythm that turns every episode into addictive page-turners.
With new episodes come new characters and new puzzles, but so come some explanations and justifications. It seems as if each episode introduced a new problem, when in fact they are just setting the scene for the climax that is to come.
As "Dig" progresses, so does the curiosity, creating a feeling of commitment and empathy towards the characters and the storyline itself. It seems hard to turn around when there are so many answers to come.
Most TV series that deal with international conspiracies like "Homeland" and "The Americans" are sometimes overwhelming and hard to grasp. However, "Dig" seems to deal with religion, politics and mystery in such a human way that it is comprehensible to any adult.
Both Isaacs and Heche have been going through a bumpy road, previously starring in series that got cut short. Yet, "Dig" might just be it. Both actors seem to be in complete harmony with their characters, acting so naturally that their roles seem to be custom made.
The writing is polished and canny, full of riveting loose ends that eventually tie up. However, like any series dealing with politics and religion, "Dig" is certainly a questionable and contentious show. After all, meddling with religions is no joke while the plot is set in Jerusalem.
As an ambitious drama with hopes of attracting a broad audience, "Dig" explodes with mature content, making it inappropriate for viewers under 18. An occasional scene of sex, nudity and violence is what pushes youngsters away.
"The prophecy has begun," says a Rabbi during the puzzling opening scene. But, will the prophecy ever end? Will the so-called apocalypse occur? Nobody really knows.
It is unclear if the prophecy will ever be cleared up, so for now it is all about wondering what type of apocalypse they are talking about.
It is yet to soon to tell if "Dig" will succeed, however it seems to be a riveting and promising show that is nowhere near to disappear.
Title: "Dig."
Created by: Tim Kring and Gideon Raff.
Produced by: Universal Cable Productions.
Stars: Jason Isaacs, Anne Heche, Alison Sudol, David Costabile, Richard E. Grant and Regina Taylor.
Aired on: USA Network
Runtime: 90 minutes.
Air dates: Thursday nights at 10 p.m.
Genre: mystery, action and thriller.
Original release date: March 5, 2015.