Posted April 2, 2014
By Roxana Maza
Marie Antoinette and Christopher Columbus join Batman, Bugs Bunny and Mickey Mouse, and others, on a boat as they row toward new land. Ready to pollute the natural paradise with western industrialization, these are some ways Edouard Duval-Carrié's sense of magical realism is executed in "Imagined Landscapes."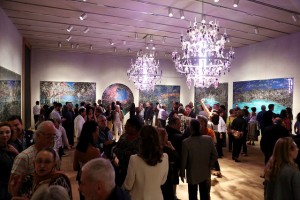 Edouard Duval-Carrié is a 59-year-old Haitian-born, Miami-based artist, sculptor, painter and curator.
He studied abroad in Montréal, Canada, and in France, and his works have been featured in Haiti, the Dominican Republic, Colombia, France, Mexico and in several U.S. states.
His "Imagined Landscapes" exhibition will be featured at the Pérez Art Museum Miami from March 13 to Aug. 31. PAMM's upcoming exhibition will honor more Caribbean artists, "Caribbean: Crossroads of the World," opening in April this year and will feature 180 works.
Duval-Carrié invokes a sense of awe with his "Imagined Landscapes" large-scale works, which are based in the Caribbean, set in dark palates heavily accented with black and silver glitter with splashes of bold colors and make references to Haiti's Voodooist practices and religion.
The 11 paintings featured at the PAMM, which Duval-Carrié produced in 2013, are contemporary twists on original works by nineteenth-century artists, such as Martin Johnson Heade, Albert Bierstadt and Frederic Edwin Church. They were hired to create their art works in order to promote colonial and economic development in the once-untarnished Caribbean.
The original paintings depict the Caribbean as an undiscovered Eden – lush and beautiful, vibrant and brimming with opportunity, but don't show the grim realities the islands' natives must face – enslavement, political oppression and the forced loss of their lands.
A brooding sense of mystery accompanies each aluminum-framed painting, often showing faceless figures. According to Duval-Carrié, these figures represent "ghosts of the past," which often went left out in the earlier works of Head, Bierstadt and Church.
Many of his paintings' titles contain some of these artists' names, to suggest his modern rendition of the original work.
One of Duval-Carrié's more notable pieces, "After Bierstadt – The Landing of Columbus," which is 96 x 144 inches, is the painting that contains both popular fictitious icons and historical ones, such as Mickey Mouse, Batman, Marie Antoinette, Christopher Columbus, Daffy Duck, Bugs Bunny, and Mr. Potato Head, acting as colonists arriving to new, tropical land.
By using pop culture cartoons and historic icons, Duval-Carrié brings a sense of humor to his strong messages of political oppression, almost making the viewer not take it so seriously.
However, in the painting a gunboat looms in the distance, which is the more serious symbol of the pending Western invasion to come. Both additions in Duval-Carrié's work complement one another nicely and stay fresh in your memory.
A captivating rendition of Heade's hummingbird paintings by Duval-Carrié is shown in "After Heade: Hummingbirds." Heade's original work, which depicts fruitfulness, blossoming exotic flowers and iridescent hummingbirds, is shown to be the opposite in Duval-Carrié's work, although not any less beautiful in its execution.
In the contemporary work, hummingbirds are yet to be seen in the picture and lively greenery and flora are far from present. Framed in a circular canvas, the painting with its generous amounts of black and silver glitter and splashes of sunset pink and Mediterranean blue represent the serious lack of tropical fertility breathtakingly.
Aside from Duval-Carrié's 11 tapestry-sized paintings, within the exhibit hang two of his chandelier sculptures that resemble upside down cakes, lit with purple lights. The chandeliers' lights accompanied by the room's own reflect off of the hung art works in such a way that the shimmering almost optimistically blinds the viewer from understanding the true meaning behind Duval-Carrié's work.
Almost.
"Edouard Duval-Carrié: Imagined Landscapes"
Where: At the Pérez Art Museum Miami. 1103 Biscayne Blvd.
, Miami, Fla., 33132.
When: Thursday, March 13, through Aug. 31, 2014.
March 13, from 7 to 9 p.m., Duval-Carrié will present to discuss his latest works. Open to the public on a first–come, first-serve basis.
PAMM operating hours: Closed on Mondays; open from 10 a.m. to 6 p.m. from Tuesdays to Sundays; open from 10 a.m. to 9 p.m. on Thursdays.
Admission: PAMM members, children under six and active U.S. military (with ID) get in free. Seniors (62+ with ID), students (with ID) and youth (ages 7-18) pay $8. Adults pay $12. Admission is free every second Saturday of the month and every first Thursday. All Florida K-12 educators with ID receive free admission.