Posted April 16, 2023
By VALERIA PALLADINO
Contrary to trendy belief, it is not all about Michael Jordan.
"Air" is not a sports movie either. It's a glance at sneaker history, the narrative of a partnership between Nike and Jordan.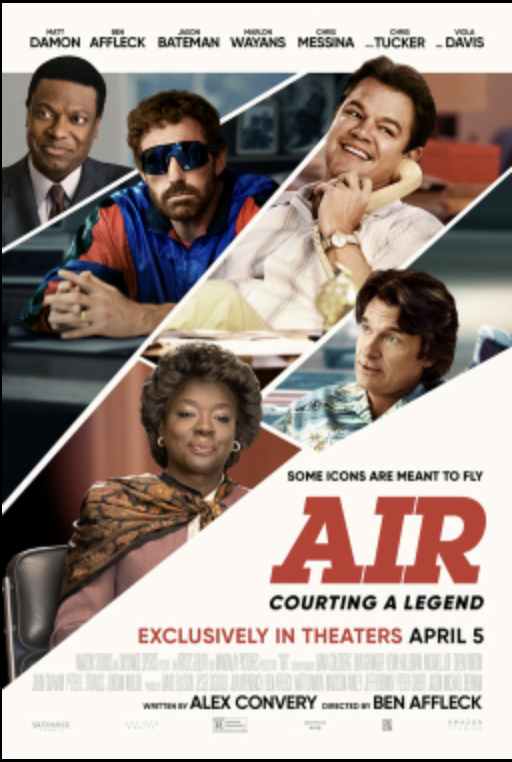 A love story: Sonny Vaccaro. a shoe salesperson, falls in love with a rookie NBA player, and even with all odds against him, his ambition, confidence, and gut instinct lead him to risking more than just pride; but his whole career.
Showing up at Jordan's house unannounced? That is having no fear of rejection, and a little stalkerish.
How far will Sonny Vaccaro go to get Michael Jordan as Nike's star player?
Placing all shoes in one basket, Nike wants a whole line around this NBA rookie. The real story is about the chase.
One of the first things we know about a movie is the cast. Considering that "Air" features Matt Damon, Viola Davis and Ben Affleck, as both actor and director, the bar for this movie was set high. Just by watching the trailer we all knew this was going to be good.
Ben Affleck, who has won multiple awards as a director, returns with a film that has the audience entertained every single minute. Enjoying the peek at the business and marketing side of successful shoe companies. He chooses his characters methodically and knows what part fits everyone best. Every scene adds something to the final product. We see Sonny in his moments of hope, and when he loses it, too.
For example, Chris Tucker played and helped write the part of Howard White, Nike's vice president. This was a smart move considering that he knew him.
The props and music are chosen to help you imagine that you are in the 1980s. You get to see the buildings, the workplace, the meetings, all during that time. Everything used goes hand in hand with the setting. The soundtrack for this film consists of twelve songs and a significant part is from the 1980s.
The soundtrack helps set the mood. "My Adidas" from the 1980s is played when Adidas prepares for its meeting with the Jordan family. Fitting since the song advertised the popularity of the brand at the time.
Regarding the screenwriter, Alex Convery, took a light- humorous and clear approach. Without dwelling on details and making the story suffocating he captured the essence of the story. Even though the ending is expected; most of the audience knows the ending, the movie still manages to have moments of light suspense and unexpected events.
Matt Damon is the star of the show, no doubt. He has several speeches throughout the movie, and everything that he is feeling you feel with him.
Viola Davis appears towards the second half of the movie and steals the show. She was specifically requested by Jordan to play his mother, and her delivery was flawless. The only thing you could expect from such an icon, really.
The story is told chronologically and is easy to follow. Even if you know nothing about Nike or Michel Jordan's career the movie subtly and methodically gives you the background information you need to fully understand what is happening. It starts by explaining Nike's situation and status at the time… the competition being Adidas and Converse.
Understanding Nike's position is fundamental to understanding the story. So let me put it in context for you. It's 1984. Adidas and Converse were selling much more compared to Nike.
Nike's team struggles to produce a game plan. Adidas, Converse, and Nike all target specific NBA players to advertise in their campaigns.
This is when Sonny Vaccaro notices Michael Jordan. When he really sees him: a competitive beast. At the same time, Jordan is relaxed and confident. And this is when the battle begins…
He goes on to pitch his idea let's invest everything in Michael Jordan, the rookie NBA player for the Chicago Bulls.
His acting reveals the ambition and passion this character had at the time. He goes on to take full responsibility for signing a deal with Jordan. The theme of ambition and determination come into play. Part of what makes the movie so powerful is the many themes it covers.
You notice Sonny struggling from the beginning, step one, even scheduling a meeting with the Jordan family. But this lack of help and support did not stop him, it pushed him. Sonny had the initiative to book a flight and drive all the way to Jordan's house to offer his mother a deal. The powerful introduction he gave was his entrance ticket to the Jordan house. Quite a remarkable first impression.
Everything happens quickly. The movie is fast paced, so you never feel like there's unnecessary scenes. Sonny earns the mother's respect, and she agrees to a meeting, promising that her son, Michael, will at least listen to what he has to say.
And he does not hold back… He delivers his big speech. Quite unexpected. For the audience and his fellow workers too. It's emotional and hits hard. From here the unforgettable line "a shoe is just a shoe until you step in it."
In the same way a movie is just a movie until the actors' step in, and a story is just a story until the author steps in. This is the combination of why this movie works so well. It is not risky, or overly different, it tells a narrative in a very convincing and appealing way.
Michael Jordan does not act in the film and nobody else shows his face as him, but you can still feel the power every time his name is mentioned. Even if they probably could not afford him, the real story is not him. The camera attempting to avoid him at all costs does disrupt the normal flow of the film. His absence adds a touch of strangeness.
When he appears you only see his back and when being spoken to, he does not reply. To me this gives his character an awkward feel. In fact, his parents speak for him. This continues to build an image in our heads of what the character is like. The movie is supposed to pay tribute to him, but his actions, or lack of them, in the movie do not speak well of his character.
Viola Davis has a crucial role as Jordan's mother. She is the one guiding him along, the only one who knew how far he'd go. Apart from Sonny, of course. The theme of motherly love and support is huge. You witness a mother fighting for her son's worth. The part was executed impeccably. The credibility she has as the mother is untouchable.
The script writing of the speech was very authentic. It is an American story. A story of success. People love watching and hearing these types of tales. It's inspiring, and the movie has this vibe. You can't help but feel hopeful and powerful once the movie ends. Like you determine your future. It teaches you so many things from support, to confidence, to perseverance, faith, and ambition.
Because this is a story, we all love to hear it's hard to get it wrong. The cast was not risky. The story either. It was all set for success. You feel like you're there every step of the way seeing this piece of history. Nike truly just did it and became the world's largest footwear supplier; a billion-dollar company. It's surprising to see where they started and the struggle.
But even if the movie was engaging it ends up being just another inspirational story.
The Jordan brand revenues around $3 billion to $4 billion annually. Jordan is paid around $250 million every year. It all started with one idea and one person who was crazy enough to believe he could do it.
"Air"
Genre: Drama/Sports
Actors: Matt Damon, Jason Bateman, Ben Affleck, Chris Messina, Viola Davis, Julius Tennon, Chris Tucker, Matthew Maher
Director: Ben Affleck
Producer: Ben Affleck, Matt Damon, David Ellison, Jesse Sisgold, Jon Weinbach, Madison Ainley, Jeff Robinov, Peter Guber, Jason Michael Berman
Writer: Alex Convery
Release Date (Theaters): April 5
Runtime: 112 minutes
---