Posted March 19, 2015
By MELISSA SOTO
Known for its hit singles "Radioactive" and "On Top Of The World," Imagine Dragons has released its second album "Smoke +Mirrors" and the new work is drawing attention to the alternative rock audience once again.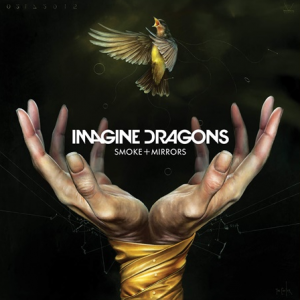 Imagine Dragons is an indie rock band made up of four men. Dan Reynolds, from Las Vegas, is the main singer. The guitarist is Wayne Sermon, who is from American Fork, Utah.
Daniel Platz is the percussionist from Atlanta and bass player Ben McKee is from from Forestville, Calif.
Imagine Dragons got together in 2008 performing in Las Vegas. They released "It's Time," the single from their first album "Night Visions" to MTV, which landed them a nomination for "Best Rock Video." This single became a double platinum single by the Recording Industry Association of America. The band finished recording this album in the summer of 2012 at Studio X inside Palms Casino Resort. Imagine Dragons released "Night Visions" in September 2012 and sold 83,000 copies within the first week.
"Radioactive" and "On Top Of The World" became the hit singles from this album. "Radioactive" stayed at the No.1 spot for a record -breaking 23 weeks and, by the end of 2013, the song alone had sold three million copies. Imagine Dragons has performed on the "Late Night With Jimmy Fallon," "Conan," "The Late Show with Jay Leno" and more.
"Smoke + Mirrors" is Imagine Dragons second album. It was released in February. This album was self-produced by the band along with help from English hip hop producer, Alexander Grant, who is more commonly known as Alex Da Kid.
Imagine Dragons is under both Interscope and KIDinaKORNER labels. The first single from the album, "I Bet My Life," was released in October 2014. The beginning of the song has a hint of gospel, but then quickly changes to upbeat alternative rock. The song is about people having relationships with their parents. Even during hard times, it is important children understand that parents know what's best and this song exemplifies this concept perfectly.
Throughout the song, Reynolds expresses how he and his parents didn't always see eye to eye. "Now remember when I told you that's the last you'll see of me, Remember when I broke you down to tears," clearly suggests there was a lot of bickering and emotions going on between this man and his parents.
Even though parents guide their children the best they can, sometimes the child doesn't see it until they take their own path. "I know I took the path you would never want for me, I gave you hell through all these years," is something the singer finally admitted to his parents.
The second single from this album, "Gold," was released December 2014. This single explains what most of us already know, which is money can't buy everything. The song says that even though it can buy us diamonds and rings, it can't buy true friendship, love and trust from others. The concept of the song definitely sends a strong message. It might be more appealing to have a happier tone or beat for this song, but considering the topic is a serious one, they did a great job expressing themselves.
The most recent single was released in January. "Shots" is an upbeat song with energetic guitar and percussion. Although the content of the song is quite dark, Reynolds does a great job by singing light vocals. The song is from Reynolds' point of view in which he describes himself as destructive and incapable of love. It's a very moving song and really gets the mind wondering and contemplating what the artist is trying to say.
The singer very well knows that he is the wrong choice for the person he is in love with. This is suggested with the lyric "I can't have you and I'm only gonna do you wrong." As the song continues, he says that ever since he was little he believed he failed in all aspects of his life especially with the people he has loved. Although the lyrics are quite depressing, this song sends out the message that it is important to admit when you are wrong. Sometimes by admitting these things people become more aware of their flaws and are able to change themselves for the better.
Overall, Imagine Dragons has created another emotionally expressive album with 21 tracks that should not only attract previous listeners but new ones. The music is full of life and raises questions that humanity tries to face and answer on a daily basis. It really gets the listener thinking about topics that are not heard as often on the radio. This is a very powerful album that will guide its listeners in a positive direction.
Artist: Imagine Dragons
Album: Smoke +Mirrors
Artists: Dan Reynolds, Wayne Sermon, Daniel Platz and Ben McKee
Label: Interscope and KIDinaKORNER
Released: Feb. 17, 2015
Price: iTunes album is $11.99 or each song for $1.29 and $11.88 for album on Amazon
Rating: 4 out of 5 stars