Posted March 21, 2013
By LAURA MORCATE
Twasted (adj).1. An Inebriated state brought on by what you just ate. 2. To be $#!+faced on taste. 3. A side effect commonly associated with late-night foody calls to Pao Town.
I had never heard of such a term — but indeed, I discovered quite a fitting experience. As the walls of the restaurant remind, in bright white chalked lettering, Pao Town is not your block's traditional Chinese takeout — instead, the family responsible for the widely successful Asian chain restaurants Sushi Maki and Canton Chinese, are at it again — and this time they're packing in the personality.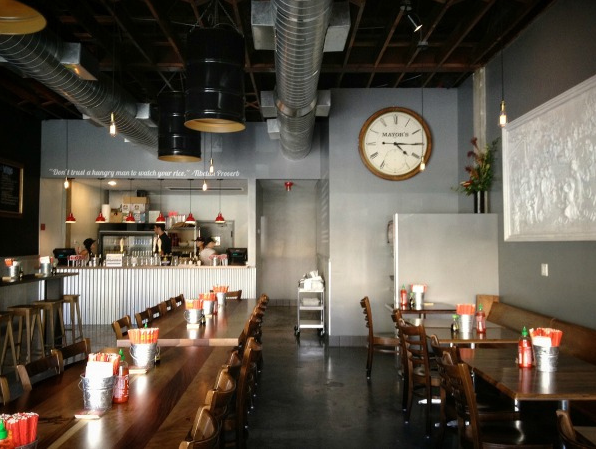 A newcomer to the Miracle Mile neighborhood, Pao Town has set up shop among many already established and popular food joints like neighboring Anthony's Coal Fired Pizza and nearby 100 Montaditos, but Pao Town has its own allure.
The space — chalkboards for walls, tables built of thick wood and floors of polished concrete— has the feel of a funky minimalistic urban setting.
The food — Eastern cuisine with a Western twist — offers adventurous alternatives to our old favorites. As playfully described on their its own website, a letter to "students, workers, and appetite shirkers" reads; "For too long you've waded through the tasteless taco trenches.
Endured Chinese food of unknown origin. Laid waste to questionable french fries. Your fingers, forever caked in mystery wing sauce, attempt to hide the ketchup-stained scars that cover your face. Fear not. Reinforcements have arrived. Enter: Pao Town."
The "fast casual" Asian-fusion gastropub, complete with bacon-fried rice, pork belly buns and a unique array of craft beers does not disappoint. Think Shake Shake with a Korean twist — a walkup counter ensures prompt service — and a condensed menu, consisting of just six main entrees, two salads, four "buns and noodles," and five sides — offers just the right amount, and kind, of selection.
Now let's get the calorie counters out of the way — the good news is the salads do their job, both nutritious and delicious— the more sophisticated of the two, is the Sashimi Poke Salad ($13) piles on sushi grade tuna, izumidai and avocado served on a bed of romaine tossed in Miso dressing. Another healthy option that does the trick is the tasty Teri Chicken ($8) —– consisting of tender, grilled pineapple-marinated chicken and bok choy served with steamed rice.
The bad news is, everything else is so enticing that, you will probably end up cheating on your diet for the day. But how can you pass up the savory creaminess of the Sliders ($10) — American Kobe beef, caramelized onions, and wasabi ranch on three Hawaiian sweet rolls, served with fries— or the Beef Chow Fun ($10) — with fresh broad rice noodles wok-tossed and topped with marinated beef and veggies.
Each entree portions is a meal in itself, but a few of my favorite sides are downright overindulgent, food coma-inducing, overflowing bowls of awesome. Bacon Fried Rice — with bacon, eggs, pineapple and onions wok-tossed with Jasmine rice, Togarashi fries — thin cut and tossed in Japanese seven spice served with wasabi ketchup, and my personal preference, the unexpected addiction by Brussel Sprouts tossed in sweet chili sauce, each offer a great selection of sweet, tangy or spiciness that can satisfy just about every craving.
As far as drinks go, the staff will surely let you know it's Yuenguary, meaning, yes you do want a beer with that, and make it a Yeungling light lager- after all you'll get it for $1 a pint, or $5 a pitcher, for the rest of February.
Also available, a unique selection of craft beers including Brooklyn Brown Ale, a Florida Lager and a few bottled Asian brews including Tiger, Singha, and Tsingtao, that explore international approaches to our beloved blends of hops and barley.
Feeling fancy? They've got wine. With a selection of three white, and three red, be sure to ask the bartender to recommend a pairing — in my case, a glass of Pinot Noir with my Beef Chow Fun.
Overall, my experience definitely calls for a revisit— perhaps on a Wednesday night, which advertises live music featuring a local band, or Thursday for trivia night, or Tuesdays for dollar drafts — or perhaps delivered to my home, for an additional $1.50, no minimum!
With a praiseworthy menu, friendly staff, and a fun and inviting atmosphere, Pao Town is sure to become a hit among the Gables crowd.
Pao Town, 2624 Ponce de Leon Blvd., Coral Gables, Fla.
Contact: 305-760-4726, paotown.com
11 a.m. – 11 p.m. Sundays-Thursdays, until midnight Fridays-Saturdays
Salads $9-$13, Mains $6-$12, Sides $2-$5.
Credit/Cash.