Posted April 16, 2015
By BRENDA MCGRANE
It was just past 9 p.m. when I entered the busy American Social; a hybrid between restaurant, lounge and bar. The hostess offered me a table across a line of eight person booths, but warned me that at 9:45 p.m., the staff would have to relocate me to remove tables and turn the establishment into a "club."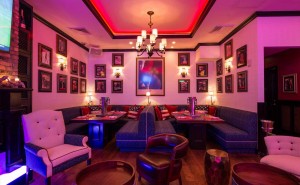 The spacious 10,000 square foot restaurant, popularly known as "AmSo" by staff, has opened on the ground floor of the Neo Vertika building in Brickell.
It appears to be the dream of every hip, young adult or hipster; featuring self-serve craft beer, more than 25 televisions, comfortable seating furnished with plush American flag pillows, top hits music and a menu with a unique twist on comfort food.
Upon entering, you will see hardwood floors, dark brown oak bar tops, purple fluorescent lighting against white walls, "Life" magazine covers hanging, barstool seating and comfortable loveseats and chairs throughout.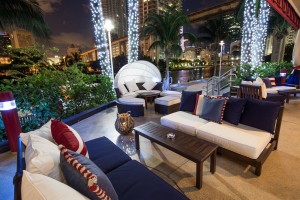 Although the dark vibes of this venue suit the nighttime scene, AmSo also has tall windows that let in a lot of natural light during the day. Not into dining indoors? AmSo also has plenty of room to sit outside, overlooking the Miami River, with daybeds and luxurious patio furniture.
The one-page menu is packed with curious options ranging from wild boar sloppy joe sliders to poke tuna bites to classic chicken and waffles.
Considering only an eighth of the menu is dedicated to specialty plates and the list of craft and specialty drinks overwhelms the food selection, it can be assumed that sharing small plates while drinking with friends is more of a staple at AmSo.
My waitress attentively delivers my 'Watermelon Flame' cocktail (patron silver infused with poblano pepper, combier liqueur d'orange, watermelon juice, agave nectar) and suggests pretzel bites as an appetizer.
Within 15 minutes a wooden tray with a handful of house baked pretzels in a porcelain dish with a cherry mustard Dijon sauce appears in front of me. The dough was everything a soft pretzel should be: crispy (not greasy), yet warm and soft in the center. Every bite was worthy of a second dip.
On another plate sits a slider sampler (AmSo blend slider, winey goat slider, blueberry Berkshire pork belly slider, sloppy joe slider), consisting of four generous miniature sandwiches. The sweet and savory layering of pork, chicory, shallots and blueberry vinaigrette in the Berkshire slider was my favorite and can also be ordered as an appetizer itself.
Next, the Miami "heater" burger tops an Angus beef patty with caramelized onions and mushrooms, boursin cheese, jalapeños and bacon between a toasted challah bun. Although a bit messy, the sandwich itself was well seasoned, tasty and cooked as ordered. I tried this best selling burger with a side of Parmesan truffle fries (totally worth the $2.00 upcharge) and the combination was heavenly.
Lastly, after noticing at least three customers enjoying AmSo's white Vermont cheddar and gruyere macaroni and cheese, a braised short rib version made its way to my table. It was difficult to patiently wait for the freshly baked bowl of pasta to cool as the aroma of melted cheese steamed my face. I've tried seafood combinations of macaroni and cheese at other restaurants, but AmSo definitely deserves kudos for being different; shrimp, chicken, wild boar and English peas are also available to order.
The cheese was creamy and moist, however the short rib was too overpowering and after a few bites tasted like a comforting bowl of pasta and meat, with cheese distantly in the background. Perhaps a smaller portion of the short rib would suffice — and a topping of crispy panko crumbs wouldn't hurt either.
As the evening went on, I was indeed relocated to a smaller table (thankfully not mid-meal as the staff seemed to overlook the time) and the music became louder, but not enough to uncomfortably make a group of people scream at each other. It took 30 minutes to flag down my waitress after asking two other employees for my bill.
Overall, the staff was slow to attend to me as more traffic came through the door, however, everyone was generally nice and helpful. The restaurant was clean at all times, even during such high traffic, and the food mostly arrived in a timely manner. The menu was a bit pricey with appetizers ranging between $13 to $20, but the quality was up to par for the expense.
Officially opening in December 2014, this is AmSo's second location. The original is located in the heart of Las Olas. Although it shares the same theme and is operated by the same owners, Paul Greenberg and Rick Mijares, each location provides a different experience and different menu, too. If you are looking to lounge somewhere different in Brickell, AmSo is worth a visit.
Restaurant: American Social
Address: 690 SW 1st Court, Miami, Fla. 33130
Phone: 305-223-7004
Hours of Operation: Sundays-Thursdays: 11:30 a.m. to 11 p.m. and Fridays-Saturdays: 11:30 a.m. to midnight.
Prices: $30 and under
Rating: 4 out of 5 stars