Posted May 3, 2014
By MELISSA MALLIN
Most people, when they think of music festivals, instantly think hippies, Woodstock, LSD, drugs and a bunch of teenagers doing everything their parents told them not to do.
But what they fail to recognize is that, today, music festivals open up a portal to another realm; they provide access to a different reality about which we all dream. It's a chance to experience a world where everybody gets along and is filled with peace, love, unity, respect (P.L.U.R), and happiness.
Music festivals provide two to three days where every-single-thing that separates one person from another — our background, our culture, our race, our skin color or religion — simply fails to matter anymore.
For in this world, everybody gathers to unite as a single unit to enjoy the simplicities of life and the sweet sounds of music.
Music festivals are everywhere and, as a diehard fan of electronic dance music (EDM), I strive to attend every music festival that my schedule and (more importantly) my budget will allow.
Having been to Ultra Music Festival (UMF) and Electric Daisy Carnival (EDC), in Orlando, twice, and Tomorrow World, the differences are significant.
Music festivals date back to the beginning of time, but only recently has EDM taken over the festival scene.
Ultra Music Festival, held during March in Miami each year, started as a one-day event in 1999. Back then, the festival took place on South Beach and moved to downtown Miami for its third event, in 2000, due to the massive attendance.
Only in 2011, did UMF become the huge, three-day extravaganza that it is now. UMF currently attracts about 100,000 people each year and tickets generally sell out months before the event.
EDC, founded by Insomniac Events, started back in 1997 in Southern California but only became widely known in 2008. In 2010, the festival took place in Los Angeles, and set the highest attendance record with 185,000 people.
These days, the festival takes place in Las Vegas as well as many other locations across the United States and attendance numbers continue to grow each year. An estimate of 345,000 people attended the EDC Vegas event last year.
The newest of music festivals, Tomorrow World, made its mark in September 2013, with more than 140,000 people. However, Tomorrow World grew out of Tomorrowland when the owners decided to take the festival global and settled in Chattahoochee Hills, Ga., near Atlanta.
Tomorrowland, created in 2005, takes place in Belgium each year and is one of the hardest festivals for which to get tickets. The 2013 festival sold out in a matter of seconds with more than 180,000 attendees from more than 200 countries.
Although, many of the same artists play at every festival, each one provides its own essence and uniqueness.
UMF displays exquisite, mind-blowing, computer-enhanced lightshows and lasers. Although the stages are bland and simple, the visual lightshows justify it all. Even a sober person could have a "trip-like" experience just by staring at them for a second too long.
However, the music is about the same each year. UMF only exhibits trance, house and dubstep genres. There isn't much variation except for the days, times and stages that each artist plays on.  For the most part, one can expect artists such as Tiesto, Avicii, Afrojack, Armin Van Buuren, and Skrillex to headline the main stage every year.
EDC offers carnival rides and a carnival-like atmosphere. With trippy, circus-like qualities, the festival includes dancers dressed in colorful costumes, walking around on stilts and extravagant art installations. EDC is like walking into Cirque du Solei without the clowns (or the elephants).
EDC has a much better variation of music too. EDC brings the subgenres of trance, house and dubstep that UMF lacks. Trance music varies from smooth, dreamy electro to hard-style, psychedelic trance. House music includes ambient, tribal and deep progressive house while dubstep ranges from digital hardcore to wompy brostep to wobbly drum and bass. Although some of the same artists can be found every year, new artists constantly flood the lineup.
Tomorrow World provides huge, fascinating stages that blow your mind away. In 2013, the main stage was made to look like a ginormous fairytale book with bulging eyeballs that moved around. Not to mention, it talked!
One stage looked like a giant scorpion and another had the most beautiful water fountains. Tomorrow World is filled with a fantasy-like atmosphere that feels as though you've just walked into a fairytale.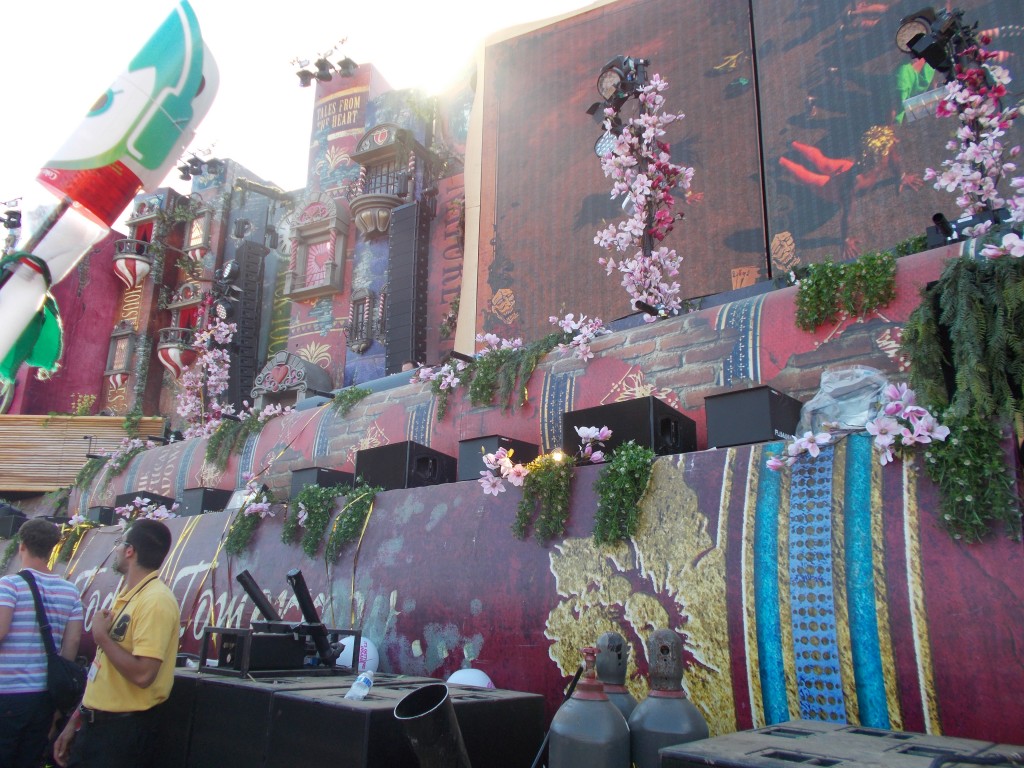 Tomorrow World's music is unique and differs from UMF and EDC. The music at Tomorrow World includes variations of all the EDM genres as well as providing lesser-known and sometimes unheard of artists. These "unheard of" artists, however, have the most unique music that differs from the rest and the most on-stage energy. The 2013 lineup included Kill Paris, Sound Remedy, The M Machine, and Mimosa.
Each festival also attracts a different type of crowd. The crowd and the type of people who attend can really make or break a festival experience. Most festival-goers range from 18 to 35, but people of all ages often attend.
For instance, you would think a festival founded on P.L.U.R, that everyone would be happy-go-lucky and friendly. Sadly, UMF fans are the opposite. The event is for all ages and everyone is unnecessarily rude, aggressively pushy, annoyingly obnoxious and just all-out selfishly unaware that everyone is there for the same purpose — to have fun and enjoy the music.
In fact, the future of UMF remains uncertain. In March, hundreds of UMF fans climbed the fence, trampling a security officer in the process. The officer, Ericka Mack had been placed in critical condition, in which she suffered from a skull fracture and a broken leg. Although she was recently released from the hospital, Mack remains traumatized as she tries to recover.
EDC fans have to be 18 years or older to attend the festival and are much more in tune with the P.L.U.R program. In fact, EDC is where everyone goes to trade Kandy. Many festival-goers make colorful, vibrant bracelets (called Kandy), that they then give out and trade to others during the event.
However, there's a rule behind trading Kandy. When trading, people hold out a peace sign for peace, a heart for love, clasp their hands together for unity, and move a bracelet from one hand to the other out of respect.
Tomorrow World goers, in my opinion, are the best. Because the event is 21 and up, there were no fights, no drug overdoses or hospitalizations and there were no arrests during the 2013 festival.
Even in the front row, nobody stood on top of you or tried to push you out of the way. Instead, they came right up next to you as if you were a long lost relative and danced the night away. Everybody spiritually knew everybody and it was one of the happiest, most friendly and loving crowds I've ever experienced.
The biggest difference in festivals is the expense. Depending on where you're from and where you're going, music festivals have this annoying tendency to clean out your savings (almost entirely).
UMF is the absolute worst when it comes to expenses. Not only are ticket prices about $500 (three-day general admission tickets were $399.95 averaging about $166 a day including tax and service fees) a ticket for three days, but UMF also charges $5 for a bottle of water. And, in the Miami heat, water is an absolute necessity.
On a quick side note, after I attended all three days at UMF 2013, I spent five days in the hospital due to dehydration. Put simply, I didn't drink enough water and my body made sure I was aware of that. But, I didn't feel like paying $5 for a bottle of water because at the time, I didn't think I could afford it (however, had I just spent more money on water, I could have saved a butt-load on hospital bills).
Hotels in Miami (especially downtown Miami during UMF) aren't cheap and often sell out quickly. Adding in the price of a hotel, gas, food and other expenses, you're looking to spend at least $1,000 when attending UMF and that's only for locals and Florida residents.
Add in the price of airfare and those coming from out-of-state are looking to spend nearly double of what Florida residents pay.
EDC expenses are about half of what you'd expect to pay at UMF. Ticket prices for EDC Vegas 2014, which takes place in June, started at just $249 for all three days. Tickets for EDC come out in phases meaning that tickets start at a set price and gradually increase, as the festival date gets closer until tickets sell out.
A unique factor of EDC tickets is that you can purchase them through a payment plan. The payment plan allows you to pay for what you can afford, each month, until the day of the festival.
And, EDC understands perfectly how important staying hydrated can be. Organizers provide festival-goers with an opportunity to purchase a $30 Insomniac canteen with free water-filling stations throughout the festival grounds. Even if you don't purchase a canteen, you can still buy a water bottle and refill it, so long as you keep the bottle.
The biggest expenses to EDC Vegas are the airfare, hotel and of course, gambling. Even if you manage to get a good deal on a flight and hotel, you'll be staying in one of the many casinos that Vegas has to offer. Quite frankly, I don't know anybody who can go to a casino (or Las Vegas) without spending a few bucks on the slot machines.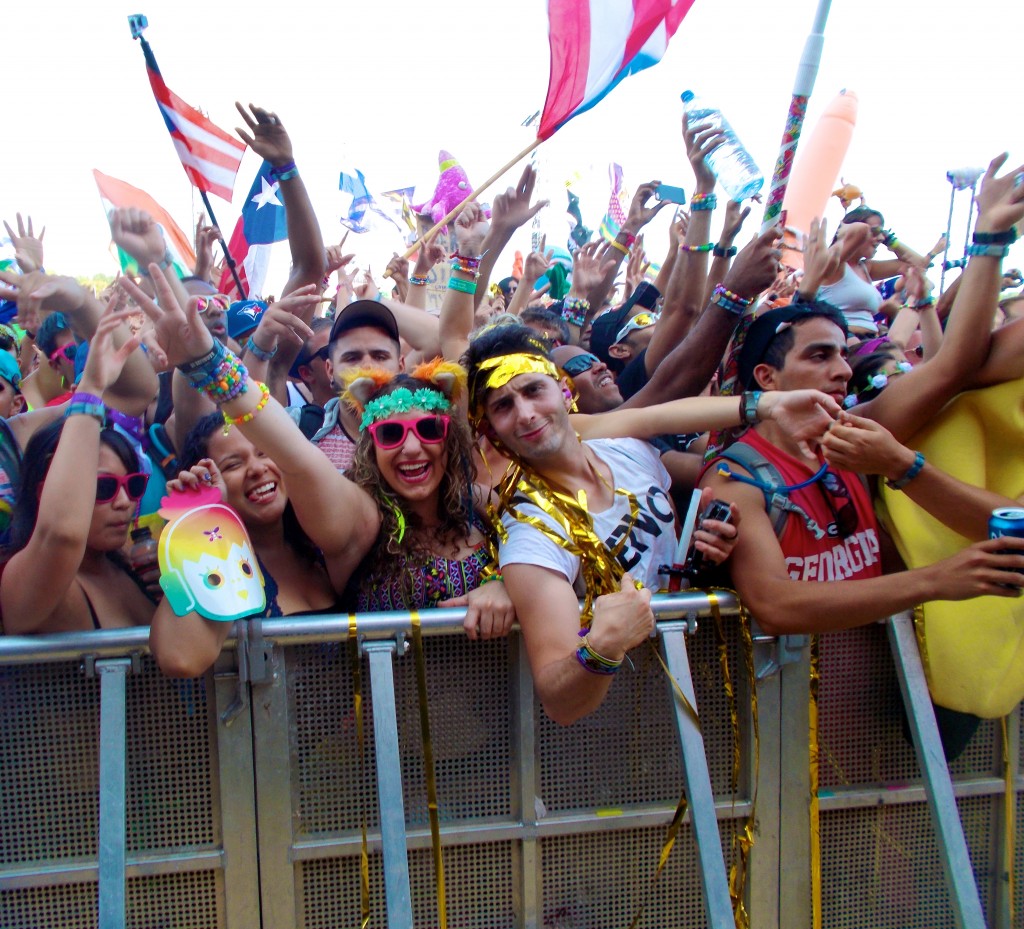 Tomorrow World expenses range in the middle of UMF and EDC. Ticket prices for the 2014 festival are $357 for all three days. Tomorrow World also offers camping in Dreamville and prices are $407. Ticket prices are the most expensive thing you'll pay for to attend this festival.
Water is everywhere at Tomorrow World and it's absolutely, 100 percent free. They have multiple water stations and they are everywhere. No need to purchase a canteen or pay $5 a bottle because all you need to do is put your hands under the water fountain and lift up toward your mouth to drink.
Tomorrow World vendors don't even accept cash. They have booths set up where festival-goers have to purchase little trading tickets if they want to buy anything. Ten tickets are $20 and vendor prices are all set in tickets.
For instance, the price of alcohol was about three to four tickets, food was between four to six tickets and water bottles cost only two tickets.
Even the hotel prices for Tomorrow World are relatively cheap. I paid about $70 a night when I went last year. Gas and food was another expense but was also relatively cheap.
Out of all the festivals I've had a pleasure of going too, Tomorrow World was by far the best and my absolute favorite. EDC is a close second and UMF doesn't even make the cut anymore.
Interestingly enough, Tomorrow World was the first and only music festival I've ever attended by myself. But that didn't stop me from having a good time. The crowd was welcoming, the essence was peace and for three days, I lived out my "happily ever after" in a fairytale.
In all, each music festival is unique and provides a number of things that separate one event from the next. Generally, music festivals provide an atmosphere filed with peace, love, happiness and respect for one another.
People from all over the world with all different backgrounds come together to share common ground. Music is the only language spoken at these festivals and love is the only religion. For three days, people can experience what the world should be like — a world filled with real people, respect toward one another and true 'world' peace.
Ultra Music Festival
Dates: End of March
Duration: 3 Days
Location: Downtown Miami
Ticket costs: About $500
Line-up: Tiesto, Benny Benassi, Avicii, Krewella, Diplo, Major Lazer, Skrillex
Electric Daisy Carnival
Dates: End of June
Duration: Three days
Location: Las Vegas, Orlando, New York
Ticket costs: About $300
Line-up: 12th Planet, Above and Beyond, Cosmic Gate, Knife Party
Tomorrow World
Dates: End of September
Duration: Three days
Location: Chattahoochee Hills, Ga.
Ticket costs: About $400
Line-up: Kill Paris, Sound Remedy, Nervo, Dimitri Vegas and Like Mike