Posted February 18, 2014
"Fighting to Forgive"
By J.B. Salsbury
By GINA GOLDBERG
"Fighting to Forgive" the sequel to J.B. Salsbury's" Fighting for flight" was enticing and mesmerizing.  Bestselling author, J.B. Salsbury nailed it with this second novel in her Mixed Martial Arts romance series. Salsbury's love of romance is apparent throughout this plot twisting novel. Although this is number two in the series, it reads as a standalone. The story is narrated by Blake and Layla in alternating chapters, voicing dual point of views.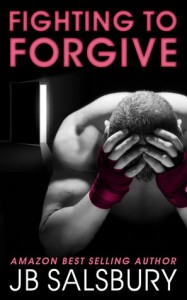 Initially, Salsbury introduces Blake Daniels as your typical bad boy player who goes through women like candy. A no strings attached type of guy, who comes from a troubling past and controlling father.
"Remind me when I decide to settle down to find a girl without baggage. Preferably one with no family." He hold up his hand and starts ticking off fingers with each stipulation. "No kids, ex-husbands, pyscho dads, fucking skeletons in the closet. None of that shit," she wrote.
J.B. Salsbury lives in Phoenix, Ariz., with her husband and two kids. Salsbury works as a domestic engineer but has a passion for good story telling. She earned a degree in Media Communications and writing has always been her forefront. She claims to be "addicted to reading romance" and spends her free time incorporating her love of romance into novels.
Layla Moorhead attempting to escape a past of her own with her daughter, Axelle, lands a job in the MMA offices where she later meets professional fighter Blake. Terrified, insecure, and traumatized, the last thing on Layla's mind is a man or a relationship. Wanting to hide her wounds, she fakes confidence, gets the job and simply tries to make ends meet to provide for her daughter and maintain a safe home. Not your typical female lead, Layla is a fragile woman fighting to be strong while sacrificing herself to protect those around her.
When Blake meets Layla, it is apparent that she is not another piece of bait, but more. Something special. She has him questioning his typical motifs and feelings. Blake, macho man, known for avoiding women with children, a past, or any baggage, begins to have feelings he's never felt before.
As Blake transitions emotionally from tough distraught bad boy to sweet perfect boyfriend it becomes easy to say he is the best male character boyfriend ever created. The effect these two have on each other leads to something magically enticing. The thing about attraction is, no matter how much you may try to avoid someone, you still find yourself drawn to them. Love makes way into both their hearts even though they weren't looking for it, it seems to be exactly what they need.
Salsbury writes: "Anything worth having in this life, you fight to get it. And you don't stop fighting until you get it."
On the path of their unconventional love story, hardships and secrets from both their pasts are reveled. Layla fleeing from her abusive husband and Blake trying to forget his corrupt childhood are some of the few secrets those two confide in one another.
"If you want peace, prepare for war," reads Blake's tattoo and ties in to the heart pounding scandal that occurs towards the end.
Touchy subjects such a marital rape, verbal and physical abuse, and drug usage are addressed yet never offensive or over the top. Together Layla and Blake build a support system, and attempt to conquer years of shame and pain from their haunting pasts. Every time the plot twists seem to be over, Salsbury gives you more in unexpected directions. The chemistry and hardships overcome by these two lovers makes it nearly impossible to put this book down. With hurt and damage, there is hope and help.
"I know it sounds silly. But, everyone needs someone fighting in their corner, Blake. I've never had that, and neither have you. You own my heart, and everything that comes with it."
Disclaimer alert: You'll probably shed many tears.  Overall, this book was a great read and highly recommended to all looking for a romance story of heroic proportion.  
"Fighting to Forgive" By J.B. Salsbury.
443 pages.
Published by JB Salsbury LLC on Nov. 19, 2013
Paperback only $11.99
Kindle Edition $3.99