Posted Feb. 14, 2022
By CAROLINA CAMUS
On view through June 15 at the Lowe Art Museum at the University of Miami is an exhibit titled "Force of Nature: Highlights from the Myrna B. Palley Art Jewelry Collection."
The exhibition features the jewelry collection of Myrna Palley, an avid art collector, UM alumni and philanthropist.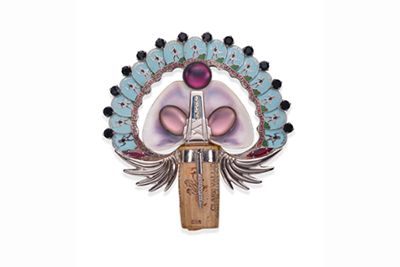 Palley is credited with donating $1.7 million to refurbish and expand the Lowe.
Because of the donation, the Lowe was able to build the Palley Pavilion, which opened on May 1, 2008, and was the first major addition to the museum in 12 years.
Though she collected studio art and glass wear, Palley was known for her extensive jewelry collection, all of which are featured in the Palley Pavilion.
Palley personally knew all the artists that created the jewelry in her collection. Colbie Cook, curatorial assistant at the Lowe, believes that this makes the exhibition more unique than others currently featured at the Lowe.
"I think what's unique about "Force of Nature" is that the collector, Myrna B. Palley, knew so many of the artists included in the show, and was so knowledgeable about glass work and jewelry design, and that the history behind jewelry as art has gone through such an evolution," Cook said.
One of the pieces in the Palley jewelry collection is "Brooch" by French jeweler Pierre Cavalan. Palley and Cavalan had become acquainted with each other via the Sculpture Objects & Functional Art Fair in Miami.
"I have previously met Myrna Palley and her husband in Miami on the occasion of SOFA exhibition," Cavalan said.
Cavalan was born in Paris and has worked in the jewelry industry for many years. In 1990, Cavalan set up his own studio in Glebe and begun to sell his jewelry on an international level.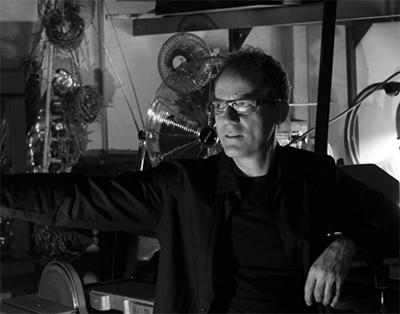 The brooch made by Cavalan that was owned by Palley is made from corkscrew, shells, charms, and other found objects.
It features pastel blues, pinks and purples. It is a small ornament intended to be worn on a shirt or other piece of clothing.
On Feb. 11, 2022, the Lowe hosted a virtual event where Cavalan spoke to UM students, alumni and staff. During this presentation, Cavalan discussed the piece of jewelry that was once owned by Palley.
Cook said that she looks forward to the virtual presentation by Cavalan.
"I'm not super knowledgeable in jewelry design," she said, "so it's a great opportunity for me to enjoy his art based off the fact that it's beautiful and an appreciation of craft."
"The fact that Cavalan makes pieces that are meant to be worn on someone's body makes me appreciate these works even more, it's truly representative of the intimate relationship between an artist and their audience," Cook said.
Cavalan hopes that his virtual presentation will be inspiring for young artists.
"The problem with new generation is their conservative outlook on life. I encourage my students to take risks specifically while they are in art school," Cavalan said.
Cavalan said he depends on hard work for his pieces, not inspiration.
"I don't believe in inspiration. I believe in constant work. Sometimes work is bad, but you must follow on and persevere until something special happens, and never get excited about success or failure."
Jennifer Vega, a UM student who is minoring in art history, said that she enjoys attending artist presentations at the Lowe.
"I would love to attend this event, simply because hearing about other working artist's success stories is important to guide someone in the right direction," Vega said.
Similarly, UM student Margarita Sinko believes that attending artist presentations is essential for those trying to make their way in the art world.
"I believe that events like this are so important to the community and UM because such events cater to what students and Miami community are interested in and might also spark interest to those who have not even known anything about such events before," Sinko said.
The University of Miami is one of the only universities in the state of Florida that has its own art museum on campus. Established by a gift to the university from philanthropists Joe and Emily Lowe, the Lowe Art Museum is a visual arts museum that opened in 1950.
The Lowe continues to purchase and display art from both local and international artists. Their exhibitions change frequently, and their collections include a wide variety of art from all over the world.
By establishing a strong permanent collection and hosting temporary exhibitions, the Lowe continues to attract large crowds of art lovers to the Coral Gables campus.
Exhibition: "Force of Nature: Highlights from the Myrna B. Palley Art Jewelry Collection"
Dates: On view through June 5, 2022
Open: 10 a.m.-4 p.m., Thursdays, Fridays, Saturdays
Location: Lowe Art Museum, University of Miami, Coral Gables, Fla.
Phone: 305-284-3535