Posted March 10, 2015
By MELISSA SOTO
Food from the land Down Under is finally being served in the heart of downtown Coral Gables. Throughout Miami, food from different parts of the world, especially Latin cuisine, is found at any restaurant at the drop of the dime.
Luckily, Threefold Café has brought authentic Australian food serving scrumptious breakfast and lunch.
Owners Nick and Teresa Sharp are from Melbourne, Australia. They moved to Miami and realized there were no places that offered Australian inspired coffee and meals to go with it. So, they decided to open Threefold Café, which combines both incredible food and coffee at a reasonable price.
Walking into the restaurant, there is a massive coffee drip contraption reminiscent of a science lab. It just so happens that this aesthetic coffee system is what they use to actually make their cold drip coffee.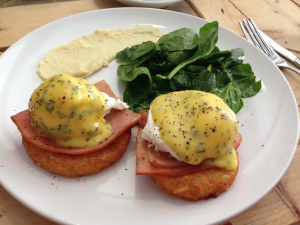 At this quaint restaurant, with its rustic design, one immediately feels at home. The tables are all wooden with beautiful flowers in clear vases placed in the middle to set a relaxed mood.
This is a family oriented restaurant so there is a "kids section" where children can hang out and play together while the rest of the group enjoys their meal.
The restaurant is filled with beautiful photos from Australia, mostly focusing on signature iconic locations in Melbourne, such as the 12 Apostles, which are beautiful rock formations located on the coast. This is definitely a place you want to go with ample time to take it all in and enjoy the hearty conversations with the kind employees.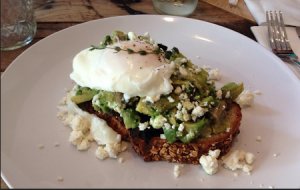 Whether the goal is to cozy up with a computer and get some work done or enjoy time with friends, this is the perfect place to do so.
The music is always very laid back and plays at the perfect volume so you can really enjoy your meal whether dining alone or with others. There is plenty of natural light as the restaurant has very large windows allowing it to flow into the restaurant.
The menu offers a variety of breakfast and lunch options ranging from "Smashed Avo," "Pope Benedict," the "Roasted and Toasted" sandwich and more. Australians are known for their very delectable breakfast and lunch. Australia has a large coffee culture related to the Italian and Hungarian influences which this restaurant adapted quite well.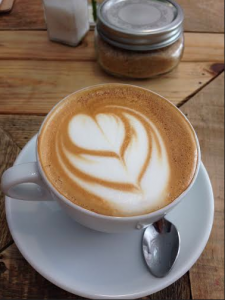 This restaurant offers lattes, cappuccinos, espresso and iced coffee along with tea and fresh organic juices. They get all of their coffee beans from Panther Coffee, located in Wynwood.
The coffee served at this restaurant is not for the faint hearted so drink moderately. As this is a breakfast and lunch restaurant, alcohol is not served, but you will be completely satisfied with what you get to eat and/or drink.
The "Smashed Avo" consists of a piece of bread from Zak the Baker, a bakery located in Wynwood, topped with fresh avocado, thyme roasted mushrooms, lime, basil and feta cheese. This dish is $13, but for just $2 more you can add a pouched egg, which is most definitely worth it. The "Pope Benedict" consists of two pouched eggs on a soft bed of hash browns filled with ham, hollandaise sauce, a side cauliflower puree and fresh greens. The cauliflower puree may not sound that appealing, but it is.
Although this cafe is known for its breakfast menu, its lunch menu does not fall short of perfection. Their "Roasted and Toasted" for $14, is a roast beef sandwich with melted cheddar cheese, caramelized onion, horseradish and mustard. This restaurant serves this sandwich with a side of fresh greens, house relish and pickled onion.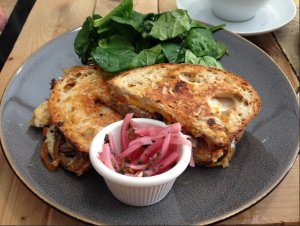 Most of the dishes range from $9-$20 depending on what you order. The coffees range from $3-$4.50. Mondays to Fridays, the downtown Coral Gables business crowd along with people in the area, can pop in for a great Australian meal. It is not uncommon to overhear a business conversation on one side of the restaurant while also seeing a family with children enjoy their breakfast on the other.
The other well-known Australian restaurant in Miami is Outback Steakhouse, which is filled with greasy, tasteless and overpriced meals allowing Americans to think that it is typical Australian cuisine. At least at Threefold Cafe you know that what you're paying for will be completely worth it, making you want to go back and try a new dish with a different cup of coffee.
Threefold Café
141 Giralda Ave., Coral Gables, Fla. 33134
305-704-8007
Accepts cash, debit/credit cards
Serves: Breakfast and Lunch
Hours: Mondays- Saturdays from 7 a.m. to 3 p.m. and Sunday from 8 a.m. to 3 p.m.
Cuisine: Australian
Price range: $$
Rating: 5 /5 stars
Website: http://www.threefoldcafe.com