Posted March 23, 2015
By DONATELA VACCA
Although girl bands are usually known to be cheesy, mediocre and all about the image instead of the music, Fifth Harmony breaks the harsh stereotypes once again, by releasing a new album full of potent vocals and upbeat pop melodies.
Since the group skyrocketed to fame in 2012 after signing with Simon Cowell's record label, Ally Hernandez, Normani Kordei, Dinah Hansen, Camila Cabello and Lauren Jauregui keep proving that they are not just fierce girls, but truly great singers that deliver their best each time they perform.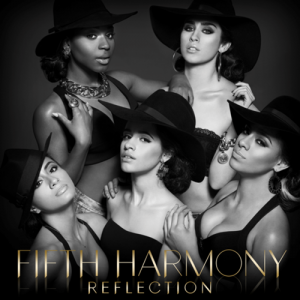 "Reflection," released on Jan. 30, does indeed bring more of the same but with a much edgier and vibrant twist that denotes the vast genres these girls can explore, as well as their huge potential.
Interestingly blurring the line between pop and R&B, this new album has 14 songs that explore a wide variety of tones and emotions, going from melancholic to cheerful in mere seconds.
Thanks to catchy lyrics and rhythmic melodies, what could be moody ballads are successfully turned into euphoric hymns to youth.
For some adults, it might be hard to grasp the theme of the album since the girls pay homage to adolescence by signing about boys, romance and friendship. But, the most recurrent and most important theme within "Reflection" is the empowerment of young women and the constant encouragement to believe in oneself, while keeping the female poise and a high self-esteem.
Strong and thought-through inspiring lyrics like "You so sexy. Boy, I ain't talkin' 'bout you. I'm talkin' to my own reflection," and "You can get anything you want. And ain't nobody, gonna tell you no," plus several adulations to great female performers like Beyoncé and Mariah Carey, and references to pop culture like Instagram and teenage lingo, prove that the singers are indeed contemporary and up-to-date with the youth of the 21st century. Thus, the songs are relatable and something that girls will surely identify with.
Even though Fifth Harmony had previously released another album called "Better Together," this new release is its full-length debut. Utilizing compelling instruments like piano and percussion, the songs explore the realm of electronica, pop, R&B and even a little bit of hip-hop.
The occasional use of the synth bass and DJ effects produced by a sound synthesizer, is what makes this album a bit more punk and electro. Certain tunes and tones reminisce back to the taste of the 1990s, which can be sensed in "Suga Mama," "Everlasting Love" and "Body Rock."
"Reflection" is certainly an album for pop lovers. However, its style is so musically rich that there is a song to please everyone. "Going Nowhere" is for the dance junkies, whereas "This Is How We Roll" and "Body Rock" are dedicated to those club and electronic music aficionados.
Musically and lyrically, "Them Girls Be Like" feels like an anthem that (almost) praises feminism through buoyant choruses. "We Know" is definitely the most tranquil song, but also the darkest and moodiest of them all, verbalizing much sensitive topics and slower music.
One song in particular does prove to be somehow unsettling, sounding almost exactly like Jason Derulo's "Talk Dirty." The trumpets seem to follow the same melody and rhythm, raising the question if there will ever be some kind of copyright clash between these emerging artists, or it will just be interpreted as musical inspiration.
It is unbelievable that with only two records on the market, this album already has prominent collaborations with popular performers like Tyga, Kid Ink and Megan Trainor. This is, after all, another proof of what girl power can do.
Although most of the songs have a very similar beat, they vary in genres that explore different moods. Whenever the girls venture into more traditional songs, they triumphantly deliver exceptional solos, heartwarming choruses and polished vocals. This is a clear indication that Fifth Harmony is not about pretty girls with good managers, but just pure talent.
"BO$$" was released as the album's lead single and is currently the most popular song, followed by "Sledgehammer" and "Worth It" (featuring Kid Ink). Because "Brave Honest Beautiful" features Megan Trainor, it will surely escalate into the top of the charts in no time.
The singers are still young, but "Reflection" shows how much they have grown spiritually and professionally. They now tackle deeper subjects and sleeker music than they did with "Better Together," which was a good but somehow dull way of launching the group into the risky world of pop music.
Although "Reflection" pleases an audience with female majority, almost anyone can enjoy this type of music. The songs on this album achieve such spunk, personality and cheer, that it is clear Fifth Harmony can not only inspire girls of all ages, but also anyone seeking an uplifting and energetic combination of melodies.
It is true that the band reached the top with the help of famous bands like One Direction, and artists such as Demi Lovato and Katy Perry. However, it is now clear that harmony, camaraderie and talent is all they need to keep their spot at the top.
Contrary to other winners of The X Factor who have long perished into the land of overlooked artists, Fifth Harmony is here to stay and "Reflection" can prove it. This not a daddy's money production, but instead a demonstration of young talent going full capacity.
Never forgetting its motto, the album proves that female empowerment in the music industry is not just a proposition anymore, but instead a growing trend. Beyoncé once dreamed of a bigger female presence in the industry, so she created her all-girl band. Who knows? Maybe these girls are right on track of becoming the next Beyoncé and her Suga Mamas.
Album: "Reflection."
Artist: Fifth Harmony.
Label: Epic Records, a division of Sony Music Entertainment.
Released: Jan. 30, 2015.
Number of tracks: 14.
Editions: standard and deluxe (includes "Brave Honest Beautiful" featuring Megan Trainor)
Available on digital download and CD.
Price: $12.99 (deluxe edition) and $9.99 (standard edition) on iTunes.