Posted March 21, 2015
By AUDREY WINKELSAS
The 30-boy-strong vocal group, Libera, will likely be topping mainstream and classical charts later this week with the release of its newest album Monday. "Angels Sing: Libera in America" is a live recording of their August 2014 concert at the Basilica of the National Shrine of the Immaculate Conception in Washington, D.C.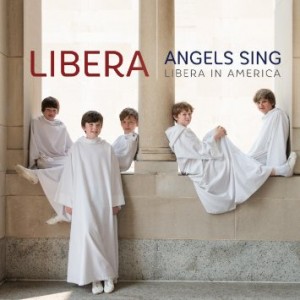 The distinctive sound of Libera has been described as ethereal. Libera is the Latin word for "free," and it symbolizes the group's philosophy that it is outside of the confines of a traditional church choir.
Many of its songs are classical adaptations infused with modern harmonies and even synthesizers.
The music it sings is both sacred and secular, ancient and modern. This album, for instance, includes songs covering the full range from Schubert's "Ave Maria" to "What a Wonderful World," made popular by Louis Armstrong.
The South London-based group evolved from St. Philip's Boy's Choir to the commercially successful group Libera. Libera tours the world, records CDs, and makes television appearances, all while singing weekly services at its home church.
Libera continues to evolve, as some boys age out and new boys join. Yet the sound they produce never changes. The quality of this performance is just as high as the last, despite the fact that the majority of current members did not participate in the previous recordings.
Libera knows how to please an audience. This album features songs that Americans are likely to recognize. The line up even includes the American folk song "Wayfaring Stranger" as well as "America the Beautiful." Libera is gracious and has a deep appreciation for its fans, and this is evident from its taking time to perfect one of our patriotic songs.
Huge fan bases in the Philippines, Korea, Japan, the U.K. and the U.S. are testament to Libera's universal appeal. This album is particularly recommended for those who like traditional tunes and appreciate quality choral music.
Libera is primarily composed of treble voices, with occasional contributions from older boys whose voices have changed. The boys range in age from seven to 16. While the timbre of the music is that of boys, the quality of the sound they produce is superior. It is hard to come across a performance of equal caliber recorded in the studio, yet alone one recorded live. Every choir should listen to this CD, as it is an example of choral singing of the highest standard to which all should strive.
There is no doubt that these boys are talented. But talent alone cannot achieve what this album achieves. The boys' discipline is tangible from the synchronization with which they sing complex rhythms and the clarity of their diction.
Additionally, Robert Prizeman, director, is paramount to Libera's success. Prizeman knows exactly how to maximize the talent of each individual member. He writes music especially for the group and sometimes even with particular boys' voices in mind.
Many of Prizeman's compositions are original arrangements based on famous motifs, such as "Sanctus" based on Pachelbel's Canon, and "Luminosa" based on Debussy's "Clair de Lune." Others are entirely original, such as the song "Libera," which has sort of become the group's theme tune.
Fewer of the songs on this album are Libera originals. Instead, it is largely a collection of old favorites with new and exciting arrangements by Prizeman. These arrangements typically involve entirely novel introductions, soaring descants, and unique instrumentation such as chimes and tympani.
Twelve of the songs on this album feature soloists. Solos provide the opportunity for listeners to meet individual members of the group.
Thomas Delgado-Little's performance in "Ave Maria" is especially commendable. His voice soars on high notes and he makes it sound nearly effortless. Also noteworthy are any one of Isaac London's four solos. While soloists may be the most memorable, it is important to remember that every boy contributes and is essential to producing the unique sound that is Libera.
Libera
"Angels Sing: Libera in America"
Released: March 2, 2015
Genre: Classical
CD/DVD $14.99
iTunes $9.99
Length: 65:08
Label: Warner Classics