Posted March 20, 2015
By MELISSA RAE OSTROFF
Debuting at the top of the U.S. Billboard 200 and moving more than 195,000 units, "Smoke + Mirrors," by Imagine Dragons has made waves in the music industry recently.
But does the album live up to its hype?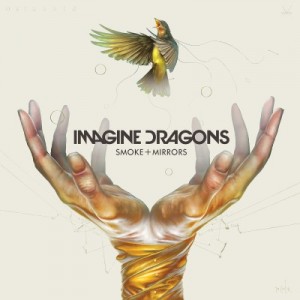 Its first album, "Night Visions," which was produced by Alexander Grant and Brandon Darner, is what put the band on the map, making 22 different U.S. charts; 14 of which had them in the top 10. In addition, five out of the six singles on this album made it onto the Billboard Hot 100.
Imagine Dragons has also been named as "2012's Brightest New Stars" and "The Breakout Band of 2013" by Billboard.
According to the members of Imagine Dragons, because they write mostly on the road, a lot of their new album was inspired from their experiences while on tour for their first album. However, one key different between "Night Visions" and "Smoke + Mirrors" is that they are of different sub-genres, yet both remain under same umbrella genre of alternative music.
Lead singer Dan Reynolds revealed to Rolling Stone magazine that while the first album was influenced by hip-hop music, the second album is more rock. This album has been in the works a long time. When the band began working on the album in the studio, it already had 50 different demos.
Although this album is rock and alternative, it also pulls from other genres such as pop and R&B. Although this album has a lot of variety in terms of music styles, it can be overwhelming to experience so many different styles of music in one album. There is not a lot of unity within the songs, because each one is a slightly different style of music. Although the album attempts to appeal to many different audiences, it never truly masters any one genre.
The lead single on this album is "I Bet my Life," which made it to No. #28 on the Billboard Hot 100. This song is uplifting, but is not meaningless. Although this song has meaning behind it, the lyrics are still ambiguous.
Reynolds has said that this song commemorates the relationships in our lives that have endured over the years through the good and the bad.
He is referring to the connection that he has and will always have with his parents. Regardless of whether one feels this way about their parents, siblings or other family members, the meaning behind this song has the potential to resonate with lots of different people.
The two other singles on this album are "Gold" and "Shots." The beginning of "Gold" is slightly unsettling because between the music there are these sudden bursts of sound that are startling and almost animal-like. However, once the song starts, it has a nice, steady beat that is pleasing to the ear. The pace of the song is slower than an average pop song, however the beat is still constant enough that one could dance to it.
"Shots" is much faster paced than the majority of songs on this album. It's upbeat, but it doesn't have as much depth as the others songs. It's a great song to dance too in a crowded room, but it's not the type of song that evokes a lot of feeling or is profoundly moving. It doesn't quite go with the other songs on this album besides "I Bet My Life," which is also very uplifting.
The oddest part is that the actual context of the lyrics isn't all that happy; its about having chance after chance and still failing: ("Oh, I'm going to mess this up. Oh, this is just my luck. Over and over and over again.") However, the tempo does not match this.
The songs that are truly standouts are the ones that are of the rock genre, such as "Smoke and Mirrors" and "I'm So Sorry." Both have a heavier base and slower tempo than the other songs, yet they have much more soul and evoke more emotion. They have less lyrics and rely more on the sounds, which seem mostly instrumental.
This album has some great gems, yet it has such a wide range of music styles that it is difficult to find common themes throughout the album or understand how the 13 songs go together.
By trying to appeal to a wider audience range this time around, Imagine Dragons may have sacrificed unity between their songs. However, this is definitely a solid album and every song has its own unique feel.
Album: "Smoke + Mirrors
Band: Imagine Dragons
Released: Feb. 17, 2015
Studio: Imagine Dragons' Home Studio in Las Vegas, Nevada
Genre: Pop Rock
Runtime: 50.55
Record Label: Interscope, KIDinakKORNER
Producer: Alex Da Kid
Singles: "I Bet My Life," "Gold," "Shots"