Posted February 26, 2015
By MELISSA SOTO
"Fifty Shades of Grey" has unfortunately left the audience with 50 types of confused and uncomfortable thoughts.
Based off the book series "Fifty Shades of Grey" by E.L. James, comes the first movie directed by Sam Taylor-Johnson. This movie is about a sadomasochist who lures in a young innocent woman into his world of painful lovemaking.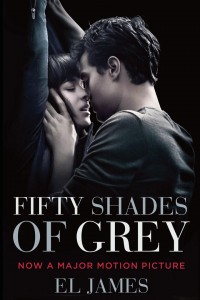 Christian Grey, played by Jamie Dornan, is a very wealthy, young bachelor who does and gets what he wants. Anastasia Steele, played by Dakota Johnson, is an English literature student at a nearby university.
She decides to help her roommate, Kate, who can't interview Grey as she is ill, and does it for her. Once Steele begins the interview, Grey becomes extremely curious with Steele and what she does for a living.
Throughout the whole interview the tension between Grey and Steele is quite forced, as there is no real chemistry between the two actors. Their actions and emotions seem dictated as opposed to naturally flowing.
Although there is no significant chemistry between these two on screen, they play the roles to the best of their abilities. As the movie progresses, Grey visits Steele at work purchasing some peculiar items such as cable rope and masking tape reminiscent of a serial killer. He then invites Steele for a coffee date that ends poorly.
Grey expresses that he "isn't the man for you, you have to stay away from me," while she sips on her drink. The poor naïve Anastasia is disappointed that the hopes of her and Christian ending up together happily ever after is unlikely to occur. After some time progresses, Grey changes his mind and continues to see Steele yet again.
Christian informs Anastasia that he wants to continue to see her, but under ridiculous conditions. Steele needs to sign a contract giving permission to Grey to perform certain sexual acts with her as he has a very "singular taste." Steele takes the contract, does her research and takes some time to think about it.
Within the contract it states that Steele must be sequestered in Grey's allocated room for her in Seattle at his command. He also demands a gag order of her, figuratively and literally. The part of the contract that bothered Steele the most was that Grey would not allow them to sleep in the same bed. Anastasia never signs the contract even though she and Christian take their relationship to the next level. She verbally consents to letting Grey be her first lover but sets limitations on some of his desires.
Grey and Steele continue to engage in their unique relationship but Steele is slowly changing her mind, as she wants a deeper connection with him. Steele attempts to tap into his psyche by asking questions about his past, hoping that it could possibly allow him to open up and express emotions to her.
The end of the movie consists of Grey "punishing" Steele in his strange sex room where he hangs whips, chains and belts to use at his discretion. He punishes Steele by hitting her with a belt six times making her call out each number. Thankfully, this pushes Steele to her limit and she storms out. This takes Steele emotionally over the edge and she chooses to no longer see Grey.
The cinematography for this film was enjoyable with different landscapes through forests and open fields as the film was shot in Vancouver, British Columbia. This movie did have a pleasant soundtrack with songs from Beyonce, The Weeknd and Ellie Goulding that set the mood for the scenes.
When comparing this movie to the novel there are significant differences. Grey is depicted as less of a stalker in the movie, side plots are skimmed over and multiple love scenes are left out, which is for the better. If it was possible to create something worse than the book, this movie was it.
Overall, this movie is certainly not recommendable. The acting scrapped a bare minimum of what should be allowed on screen. As a whole, more was expected from Dornan who is also recognized in the film "Marie Antoinette" and television show "Once Upon a Time, " as well as Johnson who was in "The Social Network," "Beastly" and "21 Jump Street." Taylor-Johnson who has directed other films is most recognized for this movie.
This movie could be most suitable for women who want to watch a horrible love story filled with demeaning statements about what a woman should and shouldn't do to please a man. If this doesn't sound appealing, stay clear of this movie along with the possible sequel.
Film Title: "Fifty Shades of Grey"
Release Date: Feb 13, 2015
Distributor: Universal Pictures and Focus Features
Leading Actors: Jamie Donan and Dakota Johnson
Run time: 125 minutes
MPAA rating: R
Personal Rating: 2/5 Stars