Posted February 18, 2014
"Idle, Wild, Love"
By Shaida Escoffery
By ASHLEY MCBRIDE
Shaida Escoffery makes waves with her debut novel, set on the shores of Lake Idlewild in Idlewild, Mich.
"Idle, Wild, Love" spans nearly 50 years and three generations, as a story unravels about love, tragedy and forgiveness.
Escoffery writes for an audience of both males and females, ranging from young adulthood to senior citizens.
The romance novel is enhanced by Escoffery's witty dialogue between the characters, illuminating descriptions of scenes and convincing character development that allows the reader to relate to various aspects of each of them.
Overall, one must give props to the young author on her first published full-length novel.
The story opens in 1924, introducing two young widows, Rosie Carrington and Mae Evans, who move to Idlewild from the south to escape Jim Crow laws and to create better opportunities for their children.
In real life, Idlewild at the time was one of the only vacation spots for Black Americans and was viewed as a version of the Garden of Eden, during its heyday in the mid 20th century.
Escoffery's eloquent descriptions can be seen at the beginning of the story, she writes:
"Both mothers weren't prepared for the coolness of the place. The air so clear, they wanted to breathe in lungfuls of it. Each sunrise brought a promise of a fresh start and separation from Jim Crow. Each sunset signaled success."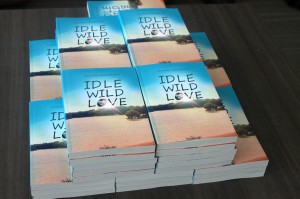 Currently a senior at the University of Miami, Escoffery began this work with no intentions of it turning into a novel.
As a creative writing major, she was required to begin a short story as part of her senior thesis, and Idle, Wild, Love was the result. Escoffery did face her fair share of challenges, however, when it came to completing the book and getting it published.
She was the recipient of the 2013 Atlantic Coast Conference Innovation and Creativity (ACC-IAC) Fellowship, and used the grant money to travel to Idlewild in the summer of 2013 to complete more research on the setting of her novel. The illustration on the front cover of "Idle, Wild, Love" is actually an edited photograph of Lake Idlewild taken by Escoffery herself.
The novel gets underway as the daughter of Mae Evans, Hannah, returns to Idlewild from a two-year stay in Paris as a governess and Henry Carrington, son of Rosie Carrington, is sent to pick her up from the train station. The two immediately fall into harmless banter that reveals deeper feelings than each would admit. Both of their personalities clash while Hannah gets settled back into life in Idlewild, because she is an intelligent, bold and independent woman, while Henry is an alcoholic womanizer with an unclear direction for his life.
"You really plan on sampling every woman until you're gray?"
"Yup, that was the plan."
"That's sick."
He roared with laughter. "You were never short of opinions."
"I think you're going to meet a girl that has you so sick in love you won't know what to do with yourself. I hope you pine after her."
Henry made a show of clutching his heart. "You wound me, Hannah."
The novel does have Christian religious undertones, as the two main characters struggle with their faith at some point in the story and rely on it to survive adversities. However, the undertones are not off-putting to readers who do not practice the faith. In addition, since the story is set in the mid 20th century and the characters are black, there are instances of brutal race riots and lynchings, but they are brief.
As the story progresses, Henry and Hannah are forced to mature, with Henry giving up alcohol and solidifying a career path and Hannah allows herself to be vulnerable and catered to. When the pair face hardships that threaten to destroy their relationship, they each must make sacrifices for the well-being of the both of them.
Escoffery elected to go the self-publishing route, in order to save money and have more control over the distribution of her book and future writings. Since the novel was published in December, Escoffery has had a number of book signing events, both on the University of Miami campus and around the city of Miami, and her next one will be in April at Books & Books in Coral Gables.
This novel was absolutely enthralling for any romance novel enthusiast, as well as those who have a penchant for African-American literature and writing. It is a relatively short read, but readers will feel that the novel is a complete story nonetheless. Escoffery's next book should certainly be on any reader's "to read" list.
Title: "Idle, Wild, Love"
Author: Shaida Escoffery
Date published: Dec. 30, 2013
Availability: Available on Amazon in paperback ($11.69) and Kindle ($4.99)
Length: 228 pages