Posted May 2, 2013
By ALEJANDRA GUTIERREZ
"Les Misérables," the legendary masterpiece of Broadway created by Boublil and Schonberg is celebrating its the 25th anniversary through a national tour.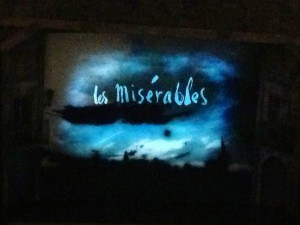 As part of the tour, the adapted performance produced by Cameron Mackintosh, played at the Ziff Ballet Opera House of the Adrienne Arsht Center for the Performing Arts from Feb. 26 to March 3.
Although the action moves faster than in the movie, both opening and closing nights were packed.
With an audience of all ages, many cried and laughed with the same or greater fervor that in the movie; proving that theater is becoming a growing enterprise in Miami.
The musical tells the story of a ruthless police office chasing a man imprisoned for stealing a loaf of bread in the middle of the revolutionary struggles of the 19th Century in France, in which the people took up arms to fight against government corruption and poverty.
The melancholic show features advanced staging technology that changes scenes in seconds. While certainly critical to the success of this production, it's the music that truly creates an emotional scenario.
Posted May 2, 2013
By ALEJANDRA GUTIERREZ
Although the music of Claude-Michel Schonberg and Herbert Kretzmer's lyrics are not particularly sticky, the theme itself is well known, especially the number of Jean Valjean, played each night by the magnificent Peter Lockyer.
The costumes used by the actors and actresses were flawless, showing a balance between misery and poverty and the elegance and superiority of the French army.
"Les Misérables" has become one of the world's most popular musicals, seen by nearly 65 million people in 22 different languages.
The producer, Cameron Mackintosh, has participated in other musicals such as "Cats" and "Phantom of the Opera," wants to build on the success of the version that has been brought to the big screen making it one of the most popular films of the year.
In the coming months, the musical will also travel around the world, including countries like Japan, Canada, Australia, and Brazil.
"Les Misérables"
Producer: Cameron Mackintosh
Time: 2 hours, 55 minutes (one intermission)
Date: Feb.26-March 3
Location: Ziff Ballet Opera House of the Adrienne Arsht Center
1300 Biscayne Blvd., Miami, Fla.