Posted Feb. 19, 2013
"Are You There, Vodka? It's Me, Chelsea"
Chelsea Handler
By RACHEL JANOSEC
"Are You There, Vodka? It's Me, Chelsea" is a witty, foulmouthed, no-limits kind of book, perfect for anyone who is looking for a little entertainment in their life. As long as you find the author, Chelsea Handler, star of the late-night show on E!, "Chelsea Lately," more sarcastic than obnoxious, you will enjoy this book.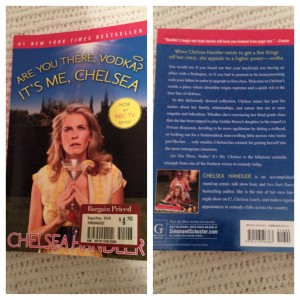 Handler's own life is her source for the stories in this book, which is compiled of comical real-life experiences she went through from fifth grade on. There are no boundaries in this book and it is definitely aimed at a certain target audience. Let's just say that if this book were to be made into a film, it would be rated R.
The book actually was made into a television sitcom in early 2012 on NBC, but only lasted for a year. The book was first published in December 2009, but then re-released in 2012 before the sitcom aired.
As the sitcom followed the book, the book is under the genre of comedy. And anyone who knows Handler at all would guess before even reading the back that this would be the case. The laugh-out-loud and extremely sarcastic real-life stories that Handler shares will have any reader hooked from page to page.
"Are You There, Vodka? It's Me, Chelsea" is a lot for one to take in, but that is okay because if you need a breather after a certain chapter you will not lose your place or have to reread the last chapter.  Handler organized this book in chronological order from nine years old on and each chapter is almost like a new chapter and experience in her life. None of the stories she tells connect.
Essentially you could pick any of the 12 chapters and start there, which is interesting and nice because then you can put the book down for a while and come back to it when you have time. What is also refreshing about this book is that she is not afraid to talk about the most incorrect and vulgar of situations from her unhealthy obsession with midgets to her run-ins with the police and jail time. The reader will be welcomed into Chelsea's world whether they like it or not, but they must be prepared for it. If you are uncomfortable reading about a woman who revels in vodka, drugs and one-night-stands with redheads and midgets, this book is not for you.
This book is highly recommended and aimed for an audience of women around Chelsea's age, give or a take a little.  She is a 37-year-old widely successful actress and host from New Jersey, which says a lot within itself. Handler's sarcastic and immature attitude and tone from real life carries over into her work. Women ranging from around 20 to 50 could catch the tone of this book, any older or younger may be offended or confused. But a college student, especially one who watches her late night talk show, would give this book an overall four out of five on the rating scale, I think.
In this hilariously skewed collection of stories, Handler shares her experiences with celebrities that she has had run-ins with throughout her career. Her hate for most celebrities, especially Angelina Jolie, is evident and outspoken throughout the book and in this quote she speaks about Jolie's adopted son from Cambodia, whom in her eyes resembles an Eskimo from Alaska:
"I rolled over and picked up Us Weekly magazine off the floor. The cover had a picture of Angelina, Brad, and their little Eskimo son, Maddox. I saw staring at the photo, wondering why this little boy looks so pissed off in every picture. At first I thought he was just pissed about his Mohawk, but then I realized he's probably furious. Maddox must have thought he hit the jackpot when some A-list celebrity rescued him from third-world Cambodia, only to discover that she was going to shuffle him back and for the to EVERY other third-world country in the universe. He's probably like, 'When the fuck are we gonna get to Malibu, bitch?,"
The quote shows how blunt and "bad-mouthed" Handler is in the book. And how her words can easily offend the wrong audience, but that is why it was targeted at the specific range of women.
Chelsea as the author turns to her beloved drink of vodka after many of her crazed experiences captured in this book.  The quote below ties in the title of the book with the book and with her sense of humor, also is it one of my favorite lines in the whole story.
"I went out with a guy who once told me I didn't need to drink to make myself more fun to be around. I told him, I'm drinking so that you're more fun to be around."
Reading this book will make anyone more fun to be around and leave you wondering why your life isn't as action-packed and crazy as Chelsea Handlers.
"Are You There, Vodka? It's Me, Chelsea" 
By Chelsea Handler
Gallery Books, New York, December 2009, re-released in 2012
Available in paperback edition, $16 for original price, $4.98 for sale price
Also available as an audiobook online
264 pages in length
Genre: comedy
Made into a sitcom on television on NBC in January 2012