Posted March 24, 2021
By VALENTINA POPE
After being cooped up for a year due to the ongoing pandemic, there is no doubt that people are craving an outlet to let loose, listen to their favorite music and enjoy themselves.
With events and live music limited throughout the pandemic, Miami entrepreneurs have come up with a way to allow people to listen to their favorite music and have some fun, while staying safe in an outdoor and spaced-out park, called Space Park.
Space Park is the new venue located in the Magic City Innovation District, which is in the upper east side of downtown Miami area, that will encompass community events, restaurants and live music.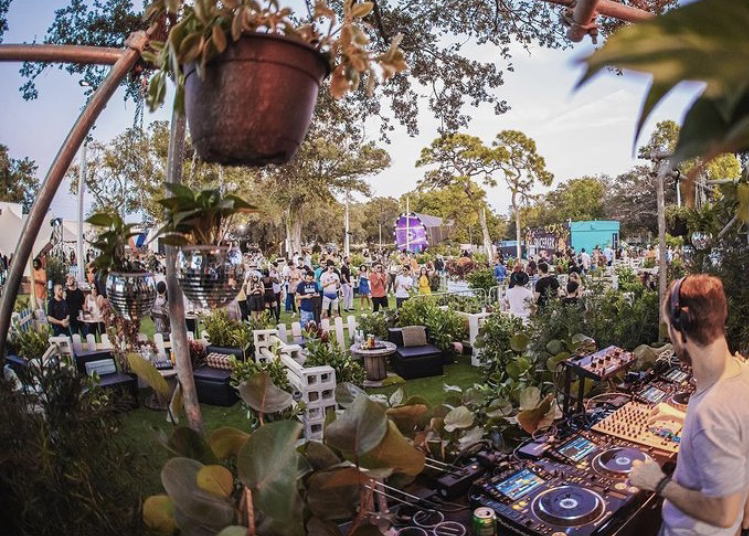 Space Park is a collaboration venue between Club Space and Bar Labs, two local organizations that have come together to create an innovative outdoor space for Miami music lovers. Owners of Club Space will handle performances and other events and Bar Labs will handle refreshments and cocktails, but all events will be a collaborative effort between the two.
The co-owner of Club Space, David Sinopoli, joined the Space Park venture with his good friends at Bar Labs.
"They are awesome operators with a great vision and I thought the idea complemented what we do at Club Space," he stated.
"We're here because we love our community, we're friends and coworkers," stated Elad Zvi, one of the founders and co-owners of Bar Labs. "We want to make sure we do it the right way, and our intentions are coming from a community point of view."
Innovation often arises out of necessity, and this was the case with Space Park. Club Space and Bar Labs saw that the community was missing something: a safe way for people to go out and a venue for live events. and they found a way to satisfy that need.
"I think the idea for Space Park was predicated on the idea that the world is changing and people are sensitive about being indoors with COVID, so we needed to give them another option. So the outdoor aspect of space park was based on the need from what is going on in the world," Sinopoli said.
Although the area is not fully up and running due to COVID restrictions, the venue can still operate at 50% capacity. Staff will strictly enforce safety guidelines at the venue.
Face masks and temperature checks are required before entry and all tables will be spread out six feet apart to account for social distancing.
"We have to be very careful about social distancing, but the ability to be outside helps a lot," Sinopoli added. "We are selling tickets to the live music events at 50% capacity and we are careful to not oversell places. People can book tables with 10 people or less and all tables are spread apart, and we urge people to not move around too much."
"Doing a big event will have a lot of people, and there are a lot of emotions about it for the past eight months," Zvi said. "So, our concern is keeping everyone safe. We want to go with the guidelines and do it the right way.
Space Park made its debut on New Year's Eve, with performance by the Ukraine techno duo Artbat and DJ/producer Rony Seikaly. The club is focused on housing underground electronic music and they are currently working on booking new DJs for upcoming events.
The venue is continuing to prosper and has many events in the works. Last week the popular Italian electronic musician and DJ Marco Corola performed, bringing a large audience and awareness to the new venue in Miami.
"When I heard Marco Corola was playing at Space Park, I knew I had to go check it out," Miami native and avid party-goer, Alex Perez, said. "Space Park is a little different from the typical Miami scene, but I really like it and it's a great outdoor place to have events, I will definitely come back to see more of my favorite DJs and bands."
This venue is different from the typical Miami club, as it's more of an outdoor hangout with food, drinks, and live music, all under the trees at Space Park.
"It's not really a turn up spot. It's going to be more of a laid back eatery, free to the public community spot with cocktails where you can sit outside," Sinololi said.
Space Park is not only a space for prominent musicians and DJs to perform, but it's going to develop into a community center where citizens can hangout with food and cocktails.
Restaurants and local food trucks will launch at Space Park on April 9.
"Right now it's just the open event space but it will be ready to go full operation by April with food and drinks," Sinololi said.
Founders are also currently working on a program to help local businesses affected during the pandemic.
"We are doing a one small step program which will allow businesses that were affected by COVID to apply to get free rent to do a food concept there which is what we're working on right now," Sinololi said.
Both owners of Space Park believe that the initiative is to create a space for people to hang out, listen to music, all while being outdoors in a COVID-friendly environment and helping the community prosper.
"I think what is going to happen is we grow organically, and our goal is to fill a void in Miami, and that may not necessarily mean just big events," Zvi said.
Space Park will have community events, screenings, yoga events, and once a month will have a big music event that will have a ticketing aspect and it will be a place where people can come listen to their favorite DJ or band.
"I think there's something really nice about being outside under the trees," Perez added. "Right now and throughout all that's happened this year I think a good outdoor spot where people can hang out and listen to music is what everyone needed."
The ultimate goal is to create a community-centric space that will showcase other local businesses and events ranging from electronic music to community yoga.
"It is not just going to be an event space, per se," Sinopoli said. "We're going to grow it and activate other community businesses in there to come in as a micro-concept. It'll just be a vibe. I just want it to be clear we are leading with big events, but it will also be a community center where people can come out and chill because it's going to be really beautiful, and we want Miami to really prosper from it."