Posted April 8, 2014
By VALERIE LOPEZ

Miami is not a city as big on theater as New York. However from time to time, I find gold mines that get me really excited for the city's artistic development and growth.
The Micro Theater Miami is one of them.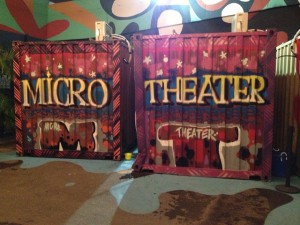 What is the Micro Theater?  It's an innovative project born in Spain and brought to Miami where mini plays are constantly presented on a small stage inside a shipping container.
It consists on presenting 15-minute-long plays for a maximum audience of 15 people performed six times every evening.
I was lucky enough to end up in this scenario last Thursday while walking around downtown. As I was slowly giving up on finding something fun and different to do, I saw a bunch of painted shipping containers in the parking lot of the Centro Cultural Español and decided to walk in.
I had no idea what was going on or why all of these people were doing a line to enter a container.
I saw different Latin celebrities and for a moment though it was a private event, so I went up to the the bar located on the back of the parking lot and asked the bartender what was going on. He explained and I for once was amazed with the concept and stayed and enjoy the night.
The ticket stand was right in front of the bar where I bought tickets to three of the plays, "Quejas de Cama," "El Mueble," and "El Callejon." After buying the ticket, I waited in line and the organizer showed me the way inside the container.
As you sit in that small space, you question yourself where are the actors going to act? But it is surprising how they do it. I assure you, you will laugh for 15 straight minutes.  The creators (CCE) of this did an impressive job and, even though the plays are in Spanish, the energy of the actors and the crow make the Micro Theater a place for anyone and everyone to enjoy.
After such a fun night, I did more research about the place. Apparently the Micro Theater has been in town since 2012, yet no one really knows about it unless you are involved with the Centro Cultural Español, but it's an amazing experience that I think is worth sharing and reviewing despite it's been around for a while.
Micro Theater Miami
Address: Centro Cultural Español
1490 Biscayne Blvd.
Miami, FLO 33132.
Phone: 305-448-9677
Price: $5 per play. $4 for CCE members
Duration: 15 minutes each play
Days: Thursdays – Sundays: 11 p.m.- 1:30 a.m.
Rating: *****