Posted March 17, 2013
By ELIZABETH DE ARMAS
Sonia Sotomayor's memoir, "My Beloved World," takes readers through a personal and thrilling adventure from page one in the preface. The 300-plus-page book tells a personal account of her life as she remembers it as a child, as a young woman and as a litigator.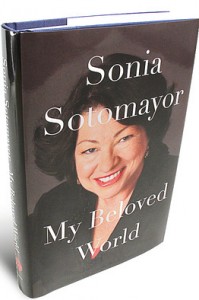 The first revealing moments come in the first few chapters of the book where readers come to know that at age seven, Sotomayor was diagnosed with Type 1 diabetes.
From that day on, her life would drastically change — she would learn to inject herself with insulin shots using an orange — and her mother taught her how to sterilize the needle she would jab into her arm. Sotomayor attributes her disease to many of her successes, claiming it molded her into who she is today — the first Hispanic woman to be appointed as a Supreme Court justice.
Sotomayor was born to Puerto Rican immigrants who migrated to New York and resided in an apartment in the Bronx. Her mother was a nurse, her father an alcoholic factory worker . At the age of nine, it seems that her dreams were already instilled in her.
Her father passed away during this time, but Sotomayor claims she realized at this age that she knew she would one day want to become a judge. Although that is quite inspiring, it is hard to believe at the age of nine that any child would be certain of their future aspirations, but Sotomayor said she was. And, everyone knows the end result – she succeeded.
Throughout her story, Sotomayor triumphs adversity. She faces challenges courageously, is one of the first woman to be accepted into Yale's law school, has an inseparable bond with her paternal grandmother and she falls in love … once. Her story allows readers to imagine her life as if it were their own. Her words color the page with emotion and paint a clear message — that adversity can be overcome.
Her book is inspiring because her story carries over the whole notion of the "American Dream," that no matter where someone comes from, they have the chance to achieve their goals if they are motivated, determined and willing to do so.
Throughout "My Beloved World," Sotomayor describes her weakest moments. She says that law school made her feel "dumb" at times and she wrote about her insecurities with her physical appearance such as her "pudgy nose."
But, none of that stopped her from fulfilling her ultimate dream. In the middle of the book, readers come to find that Sotomayor ended up marrying her high school sweetheart, although the marriage resulted in a divorce. Sotomayor admitted that her and her ex-husband were clueless about marriage at the time, but during the moment, it was right.
Throughout Sotomayor's book, readers will find that if they are searching for judicial or political advice, they have chosen the wrong book to read. Sotomayor intended for the book to be a personal story, and that, it was. Her book does not go into great detail about her life as a judge or the process of her being appointed as a Supreme Court justice under President Barack Obama in 2009.
Instead, it tells the defining moments of her life as a Puerto Rican woman — growing up in an underprivileged environment, having to mature quickly, watching her father deteriorate, not getting along with her mother for most of her younger years, being accepted into law school, overcoming laws school and having to find a way to get to the top on her own.
Much of the book is dedicated to her adolescence, which was surrounded by her parents arguing, family parties, good food, overcoming a chronic disease and the unconditional love she had for her grandmother who she felt kept the family together. In the middle of the book, Sotomayor dedicates 16 pages to illustrate her life through photographs of her growing up from infant to Supreme Court justice.
The photos add a nice touch because it allows readers to see what Sotomayor considers to be the highlights of her life. Sotomayor does an excellent job juggling between the past and present tense of her thoughts.
In moments she writes in the present tense of her past as she recalls it, but in other moments she writes as if she is remembering the memory in a flashback. Though there are some details that go more into depth than needed, it is a story that allows readers to become a part of it, rather than just read on the surface.
"My Beloved World" has been translated in both English and Spanish. Her story is heartfelt. Although her story is a similar one to many other Hispanic individuals and other minority groups who have been successful, it will inspire readers to pursue their dreams and teach readers how to transcend personal failures into long-term success.
Title of Book: "My Beloved World"
Author: Sonia Sotomayor
The book is available in hardcover for $27.95, e-book for $12.99, paperback for $15, Amazon for $16, and as an audio book for $20 if downloaded or $40 if bought on a CD
Published Jan. 15, 2013
302 pages
Printed in English and Spanish, Contains a glossary in the back of the book that translates the Spanish words and sayings throughout the book into English so readers can better understand the meaning, context and reasoning behind the words and phrases.
Review Rating: 4 out of 5 stars